Free Spill Control Whitepaper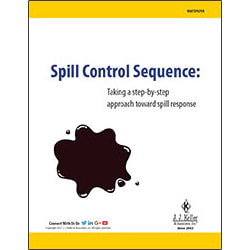 Spill Control Sequence: Taking a step-by-step approach toward spill response
It's not a matter of if spills of hazardous substances will happen, but when. Whether it is equipment malfunction, a leaking container, a transport incident, or container puncture, the danger is very real.
Make sure you have a plan in place to prevent and deal with spills. Written by J. J. Keller Workplace Safety Editor Tricia Hodkiewicz, the whitepaper covers:
What can go wrong
Preventing spills
Planning for spills
Equipping your spill responders
Training your responders
Sizing up the spill
Selecting personal protective equipment (PPE) ensembles
Responding properly
Taking follow-up action
And much more!
Fill out the form to learn more about spill control get your free copy of the Spill Control Sequence: Taking a step-by-step approach toward spill response whitepaper.