Free OSHA Whitepaper
OSHA's Top 10 Violations: How Does Your Compliance Program Stack Up?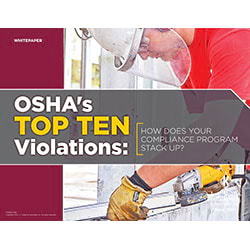 One of the best ways to help your company minimize risk and create a safer workplace is to review the most frequent OSHA violations of the past year and learn how to avoid making the same mistakes.
This comprehensive whitepaper provides a detailed overview of OSHA's top ten violations in 2021. It offers insightful best practices for preventing these violations at your own company, increasing your safety management controls, and avoiding common industry shortcomings.
Fill out the form to download your free OSHA's Top 10 Violations whitepaper.