Free HazCom/GHS Whitepaper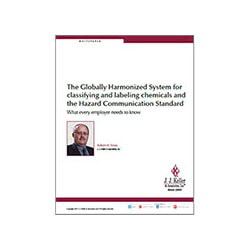 The Globally Harmonized System for classifying and labeling chemicals and the Hazard Communication Standard – What every employer needs to know
OSHA has published a revised Hazard Communication Standard (HCS) that "harmonizes" it with portions of the Globally Harmonized System for Classifying and Labeling Chemicals (GHS).
This recently updated whitepaper gives an overview of the HCS changes, including GHS basics, chemical hazard evaluation, container labels, workplace labels, safety data sheets and training requirements.
It also includes a newly-added section on implementing an effective HazCom program.
Fill out the form to download your FREE HazCom and GHS whitepaper.