J. J. Keller® SAFEGEAR® Tig Welding Gloves
Gloves are ideal for welding and construction work. Sold as 1 pair.
Read more.
Try It Before You Buy It!
Put SAFEGEAR to the test! To get a FREE sample, simply call 833-933-0976 or complete a request form. Limit 1 item per customer. Subject to approval.
Best Selling Hand Protection
Overview
Cowhide offers excellent abrasion resistance and durability
4" tan cow split leather cuff
Seamless forefinger
Kevlar® lock stitching
Wing thumb style
Available sizes:

Small
Medium
Large
X-Large
XX-Large

Common applications include light duty welding, construction, farming, machine operation, roping, utility work, and many other general work applications
Sold as 1 pair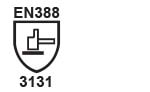 Volume Pricing
Volume Pricing
Product Code
Description
1 - 9
10 - 49
50 - 99
Higher quantities available. Pricing reflected in shopping cart or call 1-877-564-2333 to order.

64383

Small Gloves, Sold as 1 Pair

$10.49

$10.23

$9.96

64321

Medium Gloves, Sold as 1 Pair

$10.49

$10.23

$9.96

64322

Large Gloves, Sold as 1 Pair

$10.49

$10.23

$9.96

64323

X-Large Gloves, Sold as 1 Pair

$10.49

$10.23

$9.96

64324

XX-Large Gloves, Sold as 1 Pair

$10.49

$10.23

$9.96
Specification
Specification

| Product Code | Description | Sold As | Glove Type | Thumb Design | Material Fabric | Cuff Type | Color | Leather Types | Glove Coating | Glove Size | Protective Clothing Type |
| --- | --- | --- | --- | --- | --- | --- | --- | --- | --- | --- | --- |
| 64383 | Small Gloves, Sold as 1 Pair | 1 Pair | Welding, Abrasion Resistant | Wing | Leather | Slip On | White, Yellow | Cowhide Leather | Uncoated | Small | Gloves |
| 64321 | Medium Gloves, Sold as 1 Pair | 1 Pair | Welding, Abrasion Resistant | Wing | Leather | Slip On | White, Yellow | Cowhide Leather | Uncoated | Medium | Gloves |
| 64322 | Large Gloves, Sold as 1 Pair | 1 Pair | Welding, Abrasion Resistant | Wing | Leather | Slip On | White, Yellow | Cowhide Leather | Uncoated | Large | Gloves |
| 64323 | X-Large Gloves, Sold as 1 Pair | 1 Pair | Welding, Abrasion Resistant | Wing | Leather | Slip On | White, Yellow | Cowhide Leather | Uncoated | X-Large | Gloves |
| 64324 | XX-Large Gloves, Sold as 1 Pair | 1 Pair | Welding, Abrasion Resistant | Wing | Leather | Slip On | White, Yellow | Cowhide Leather | Uncoated | 2X-Large | Gloves |