J. J. Keller® SAFEGEAR® Oil-Resistant PVC Gloves
Textured vinyl coating provides increased grip for safe handling of wet and dry materials.
Read more.
Try It Before You Buy It!
Put SAFEGEAR to the test! To get a FREE sample, simply call 833-933-0976 or complete a request form. Limit 1 item per customer. Subject to approval.
Best Selling Hand Protection
Overview
Textured PVC vinyl coating provides oil & grease resistance
Superior grip even when wet
Safety cuff
Abrasion protection
Designed to keep hands warm and dry
Available sizes: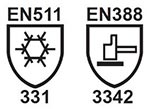 Volume Pricing
Volume Pricing
Product Code
Description
1 - 11
10 - 49
12 - 47
48 - 119
50 - 99
Higher quantities available. Pricing reflected in shopping cart or call 1-877-564-2333 to order.

71969

Large Gloves, Sold as 1 Pair

$10.64

$10.09

59553

X-Large Gloves, Sold as 1 Pair

$11.01

$10.64

$10.09

61021

XX-Large Gloves, Sold as 1 Pair

$11.01

$10.64

$10.09
Specification
Specification

| Product Code | Description | Protective Clothing Type | Glove Size | Sold As | Cold Level | Color | Cut Level | Extra Features | Glove Coating | Cuff Type | Glove Type | Puncture Level | Tear Level | Abrasion Level | Material Fabric | Coating Coverage |
| --- | --- | --- | --- | --- | --- | --- | --- | --- | --- | --- | --- | --- | --- | --- | --- | --- |
| 71969 | Large Gloves, Sold as 1 Pair | Gloves | Large | 1 Pair | EN 511 Convective Cold Resistance 3, EN 511 Contact Cold Resistance 3 | Orange | EN 388 Cut Level 3, ANSI Cut Level A1 | Waterproof, EN 511 Water Permeability | PVC | Gauntlet, Slip On | Abrasion Resistant, Cut Resistant, Oil Resistant | EN 388 Puncture Level 2, ANSI Puncture Resistance 3 | EN 388 Tear Level 4 | | | |
| 59553 | X-Large Gloves, Sold as 1 Pair | Gloves | X-Large | 1 Pair | EN 511 Convective Cold Resistance 3, EN 511 Contact Cold Resistance 3 | Orange | EN 388 Cut Level 3, ANSI Cut Level A1 | EN 511 Water Permeability, Waterproof | PVC | Slip On, Gauntlet | Cut Resistant, Oil Resistant, Abrasion Resistant | EN 388 Puncture Level 2, ANSI Puncture Resistance 3 | EN 388 Tear Level 4 | EN 388 Abrasion Level 3, ANSI Abrasion Resistance 3 | Polyester, PVC, Cotton | Full Hand |
| 61021 | XX-Large Gloves, Sold as 1 Pair | Gloves | 2X-Large | 1 Pair | EN 511 Convective Cold Resistance 3, EN 511 Contact Cold Resistance 3 | Orange | EN 388 Cut Level 3, ANSI Cut Level A1 | EN 511 Water Permeability, Waterproof | PVC | Slip On, Gauntlet | Cut Resistant, Oil Resistant, Abrasion Resistant | EN 388 Puncture Level 2, ANSI Puncture Resistance 3 | EN 388 Tear Level 4 | EN 388 Abrasion Level 3, ANSI Abrasion Resistance 3 | Polyester, Cotton, PVC | Full Hand |