J. J. Keller® SAFEGEAR® Nitrile Cut Level A2 Gloves
Nitrile gloves are ideal for handling small parts, even when oily.
Read more.
Try It Before You Buy It!
Put SAFEGEAR to the test! To get a FREE sample, simply select the item you'd like to try below, then click "Add to Cart." In the shopping cart, enter 213977 in the "Have a Promotion Code?" box. It's that easy! Limit 1 item per customer, per order. Subject to approval.
Best Selling Hand Protection
Overview
Flat dip smooth nitrile coated
Ideal for handling small oily parts
Elastic wrist for a tight fit
ANSI Cut Level A2
Lime color to help identify who's wearing them
Available sizes: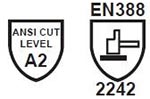 Volume Pricing
Volume Pricing
Product Code
Description
1 - 11
12 - 47
48 - 119
Higher quantities available. Pricing reflected in shopping cart or call 1-877-564-2333 to order.

59779

Large Gloves, Sold as 1 Pair

$7.64

$7.39

$7.17

59780

X-Large Gloves, Sold as 1 Pair

$7.64

$7.39

$7.17
Specification
Specification

| Product Code | Description | Glove Size | Material Fabric | Glove Coating | Glove Type | Coating Coverage | Cuff Type | Abrasion Level | Cut Level | Tear Level | Puncture Level | Color | Sold As | Extra Features |
| --- | --- | --- | --- | --- | --- | --- | --- | --- | --- | --- | --- | --- | --- | --- |
| 59779 | Large Gloves, Sold as 1 Pair | Large | Polyester, Copper Fiber, Spandex, Glass Fiber | Nitrile | Cut Resistant, Abrasion Resistant | Palm & Fingers | Elastic Knit, Slip On | EN 388 Abrasion Level 2, ANSI Abrasion Resistance 5 | EN 388 Cut Level 2, ANSI Cut Level A2 | EN 388 Tear Level 4 | EN 388 Puncture Level 2, ANSI Puncture Resistance 3 | Lime/Black | 1 Pair | Touchscreen Capable |
| 59780 | X-Large Gloves, Sold as 1 Pair | X-Large | Glass Fiber, Polyester, Copper Fiber, Spandex | Nitrile | Cut Resistant, Abrasion Resistant | Palm & Fingers | Elastic Knit, Slip On | EN 388 Abrasion Level 2, ANSI Abrasion Resistance 5 | EN 388 Cut Level 2, ANSI Cut Level A2 | EN 388 Tear Level 4 | EN 388 Puncture Level 2, ANSI Puncture Resistance 3 | Lime/Black | 1 Pair | Touchscreen Capable |