REG ALERT: 2024 Unified Carrier Registration (UCR) Enrollment is Open!
Filing deadline is 12/31/2023. File Now.
DOT Authority Monitoring Service
Our compliance experts will monitor your operating authority and make sure your credentials are always up-to-date and in compliance.
Read more.
New to trucking or renewing your credentials? With the DOT Authority Monitoring Service, you can be sure you're always operating under the proper trucking authority — without having to do all the filing, tracking renewals, and updating credentials.

Our team of DOT authority experts will monitor your authority 365 days a year, notify you of any new or updating filings, ensure your applications are filed accurately, and give you a monthly report of your operating status.

Best of all, this service includes UCR filing and MCS-150 update, so you pay less for our bundled services than buying them individually!
Services Bundle
For just $41.99 a month, you'll get:
Year-round monitoring of your operating status, MCS-150 form date and vehicle miles traveled, insurance coverage, and UCR
A free monthly Carrier Report showing any compliance gaps
Automatic filing of your UCR & MCS-150 when due
A free welcome kit that includes our HOS Handbook, FMCSR Pocketbook,
hi-vis safety

vest, detailed DVIR and more!
Anytime access to
J. J. Keller

regulatory experts to answer your questions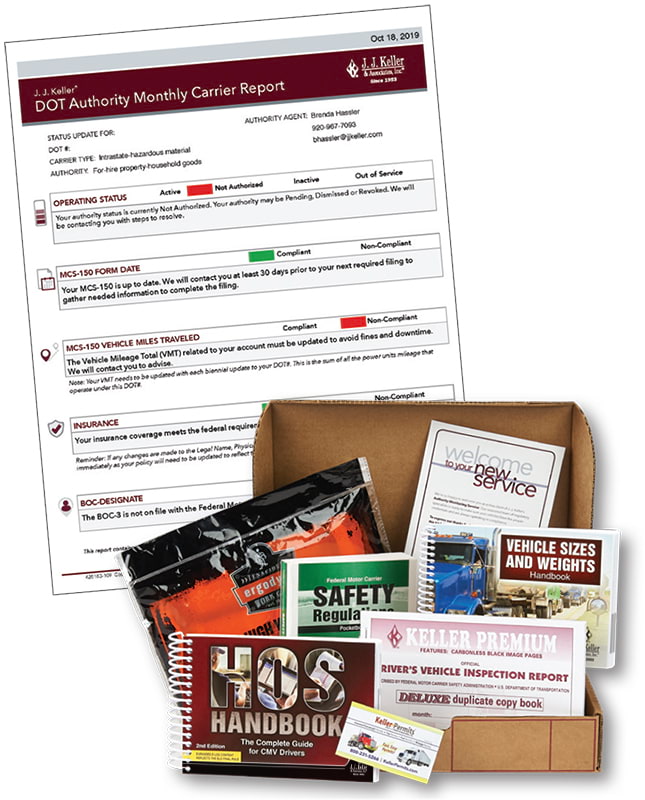 Find out how J. J. Keller can help you meet your compliance goals.
How the Service Works
Managing and staying ahead of authority requirements can be confusing and overwhelming. The penalties for non-compliance can be hefty if you are found to be operating illegally. Let J. J. Keller focus on ensuring you have the proper authority and credentials to operate legally, so you can focus on your operations.
We Monitor Authority Credentials
Our compliance specialists will monitor your authority credentials, and if found to be non-compliant, our team will identify the problem, inform you of it, and assist in solving the issue to reinstate your operating status.
We Notify You When Authority Needs Renewal
We'll also notify carriers when their authority needs renewal, and offer special pricing for those renewals.
We Provide FREE Monthly DOT Authority Carrier Report
At the end of each month, we'll provide a custom DOT Authority Monthly Carrier Report detailing your operating status, including levels of compliance, recommendations for maintaining or achieving compliance, and helpful safety and compliance information.
We Monitor For Renewal Requirement Changes
In addition, we'll monitor regulatory sources for changes impacting renewal requirements and notify you of the changes.
Take a complimentary DOT Authority Review with one of our experienced DOT Authority Advisors today. Call 888-601-2017 or fill out this form and we'll be in touch with you soon!
Why Choose J. J. Keller?
You can confidently build your compliance program around our breadth of services. We bring our reputation and credibility to the table. After all, safety and compliance has been our business since 1953.
Regulatory Expertise
J. J. Keller's deep regulatory knowledge, combined with our industry leading services, are why clients exclusively rely on us to help them with all things safety or regulatory related. By working with us, you tap into an entire network of
J. J. Keller
specialists who will provide accurate information you can depend on.
Improved Efficiency and Business Flexibility
As we monitor your compliance work, you'll have more time to work on other priorities and internal operations. Complying with heavily enforced regulations can reduce your chance of litigation, lower insurance costs, and build strong customer relationships.
Dedicated Associates
Clients work side-by-side with our regulatory compliance experts, who deliver services and solutions that minimize the clients specific risk areas.
400+ years of combined safety & regulatory experience
Located nationwide
Deep regulatory knowledge and real-world industry experience
Data Security
Rest assured, your data is extremely important to us. Each of our team members is trained in data security and must sign a legal confidentiality agreement. In addition, our on-staff privacy official maintains oversight of our written policy regarding the protection of client information.
Product Questions & Answers