J. J. Keller is pleased to partner with United Motorcoach Association to provide you with easy access to critical safety tools and references. And, you'll SAVE 10%* on safety and regulatory compliance products.
Shop Now
Simply click on a link below to order.
Designed for proper recording of pre-trip and post-trip bus inspections, this vehicle inspection report helps meet FMCSR requirements.

Includes a daily recap and detailed bus DVIR. Monthly hours of service summary, DOT logging regulations, and completion instructions are included inside the cover.

Contains all the federal motor carrier safety regulations that apply to buses and bus drivers.

Manual covers which FMCSRs apply specifically to passenger-carrier operations, including: Insurance, ADA Compliance, Driver Qualification, Drugs & Alcohol, Hours of Service, and much more.
Questions? Contact:
Pam Resnick
J. J. Keller & Associates, Inc.
3003 W. Breezewood Lane
Neenah, WI 54956
1-800-843-3174, ext. 2263

Carrington Blake | Director, Meetings and Membership
United Motorcoach Association
1-703-838-2929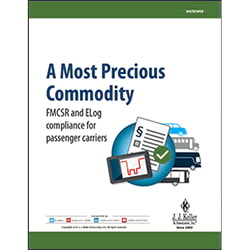 A Most Precious Commodity FMCSR and ELog compliance for passenger carriers
View whitepaper now!
---
About J. J. Keller
For more than 60 years, J. J. Keller has helped people across a broad spectrum of industries reduce the risk and liability associated with running a business. We offer a wide variety of solutions for workplace safety, transportation, human resources, construction, general industry, and more. Thousands of companies rely on us to help manage safety, training, and regulatory compliance responsibilities.
*Discount does not apply to existing offer discounts. Savings will be reflected at checkout. See full discount details.