Back to Press Releases
FOR IMMEDIATE RELEASE (May 12, 2016)
Roadcheck 2016 Reinforces Need for Regular Inspections
J. J. Keller & Associates, Inc. Offers Resources to Help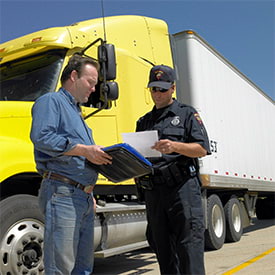 Neenah, WI - Roadcheck 2016 is fast approaching, and J. J. Keller & Associates, Inc. is ready to help motor carriers prepare for this annual roadside inspection blitz.
Roadcheck is a cooperative program between the Commercial Vehicle Safety Alliance (CVSA), Federal Motor Carrier Safety Administration, Canadian Council of Motor Transport Administrators, Transport Canada, and the Secretariat of Communications and Transportation (Mexico). During this 72-hour period, trained and certified officers will inspect tens of thousands of commercial vehicles and their drivers. This year, there will be special focus on tire safety, including measuring tire tread depth, checking tire pressure, checking for any items lodged between dual tires, and examining overall tire condition.
The goal of roadside inspections is to ensure the safety of everyone traveling on North America's roads. While the costs associated with being placed out of service might seem high, they are insignificant when compared to the costs associated with crashes. Drivers are encouraged to be proactive and inspect their vehicle thoroughly before they drive.
During Roadcheck 2015, 69,472 truck and bus inspections were completed. Of those, 44,989 were Level 1 inspections, the most comprehensive inspections.
"If you are prepared for the International Roadcheck event on June 7-9, it can actually be a good thing," said Tom Bray, senior transportation management editor at J. J. Keller & Associates, Inc. "This is because good inspections (ones with no violations) help you by lowering your CSA scores, and during International Roadcheck, you have a better than normal chance of being inspected."
In addition to its vast selection of transportation safety and compliance products and services, J. J. Keller® subject-matter experts have developed a free whitepaper, "What To Expect During Roadcheck 2016." The whitepaper will include information on tire safety and ways motor carriers can help ensure clean inspections that will positively affect their CSA scores. To download the free whitepaper or find out about J. J. Keller® products and services, visit JJKeller.com/Roadcheck.
About J. J. Keller & Associates, Inc.
Since its beginning as a one-man consulting firm in 1953, J. J. Keller & Associates, Inc. has grown to become the most respected name in safety and regulatory compliance. Now over 1,400 associates strong, J. J. Keller serves over 560,000 customers — including over 90% of the Fortune 1000® companies. The company's subject-matter expertise spans nearly 1,500 topics, and its diverse solutions include ELogs and mobile technology; training via online courses, streaming video or DVD; online management tools; managed services; consulting services; online and print publications; forms and supplies.
Transportation professionals rely on J. J. Keller® in-house expertise and wide selection of products and services to reduce risk and improve regulatory compliance, performance management and operational efficiency. For more information, visit JJKeller.com.
For more information, contact:
Mary Borsecnik
Corporate Marketing Communications Specialist
J. J. Keller & Associates, Inc.
1-800-843-3174, ext. 7050
Email: mborsecnik@jjkeller.com