Stand-alone HRAs now allowed for small employers
Posted December 21, 2016
Small employers that are not covered by the Affordable Care Act (ACA) may once again offer Health Reimbursement Arrangements (HRAs) to employees as stand-alone plans.
The ACA effectively prohibited employers from offering stand-alone HRAs by defining them as group health plans. A group health plan must comply with the ACA market reforms, including no annual coverage limits. Since employers would not provide unlimited funding in an HRA, a stand-alone HRA would violate the market reforms, becoming subject to an excise tax of $100 per participant, per day.
In December 2016, Congress passed a law called the 21st Century Cures Act which creates an exemption. An HRA will not be considered a group health plan when provided by an employer that:
Is not covered by the ACA (small employers with fewer than 50 full-time employees, including full-time equivalents), and
Does not offer any other type of health coverage.
An employer would have to offer the HRA on the same terms to all eligible employees. Also, the amount of payments and reimbursements for a year may not exceed $4,950 for an employee, or $10,000 for an HRA that also provides reimbursement for the employee's family members.
HRAs are funded solely by employer contributions, which are not included in the employee's income. Employees may not contribute through salary deferrals under a cafeteria plan.
This article was written by Edwin Zalewski of J. J. Keller & Associates, Inc.
---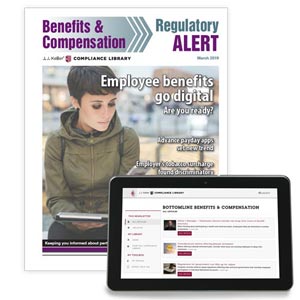 J. J. Keller's BottomLine Benefits & Compensation is an 8-page, monthly newsletter that addresses key issues relating to benefits and compensation programs.
---
J. J. Keller's FREE HRClicks™ email newsletter brings quick-read human resources-related news right to your email inbox.