RMP rule amendments intended to prevent catastrophic chemical accidents
Posted December 23, 2016
On December 21, 2016, EPA finalized amendments to the Risk Management Program (RMP) regulations. The revisions are intended to reduce the likelihood of accidental releases at chemical facilities and improve emergency activities when releases do occur.
The rulemaking is partly in response to the 2013 chemical explosion in West, Texas, that killed 15 people, and was directed by President Obama's Executive Order 13650, Improving Chemical Facility Safety and Security. EPA says that most chemical plants operated safely, but in the last 10 years, more than 1,500 accidents were reported at RMP facilities. These accidents resulted in 60 deaths, 17,000 injuries, and approximately 500,000 people having to evacuate or shelter-in-place.
The Accidental Release Prevention regulations under Section 112(r) of the Clean Air Act (CAA) – also known as the EPA RMP regulations – require covered facilities to develop and implement a risk management program. EPA shares RMP information with state and local officials to help them plan for and prevent chemical accidents and releases.
The new amendments to the RMP regulations are intended to do the following:
Prevent catastrophic accidents by improving accident prevention program requirements,
Enhance emergency preparedness to ensure coordination between facilities and local communities,
Improve information access to help the public understand the risks at RMP facilities, and
Improve third-party audits at RMP facilities.
---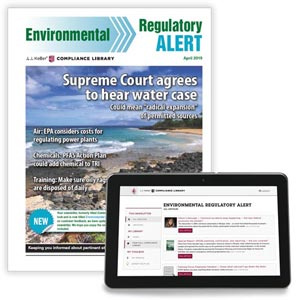 J. J. Keller's Environmental Alert: The Compliance Guide for Safety Professionals helps you stay on top of the latest environmental enforcement issues.
---
J. J. Keller's FREE Workplace SafetyClicks™ email newsletter brings quick-read workplace safety and compliance news right to your email box.