Out with the old, in with the new (leave year)
Posted December 23, 2016
When employers become covered by the Family and Medical Leave Act (FMLA), one of the tasks they need to handle is determining which method they will use to calculate the 12-month leave year period during which eligible employees may take 12 weeks of leave. Employers may generally choose from the following four methods:
Calendar year,
Any fixed 12-month period such as a fiscal year,
The 12-month period measured forward from the date an employee first takes leave, or
A rolling 12-month period measured backward from the day an employee uses any FMLA leave.
Whichever method chosen is to be applied consistently and uniformly to all employees. The only exception is if you are a multi-state employer who has eligible employees in a state with a state family and medical leave statute that requires a specific method for determining the leave period. You may comply with the state provision for all employees within that state and uniformly use one of the four methods described above for all other employees. If your state does mandate a certain method for its leave provisions, you are to use that same method for leave under the FMLA.
Under the first two methods, and to some extent under the third, an employee could use more than 12 weeks of FMLA leave in a row, as they may "stack" the leave between two leave years. For example, under the calendar year method, an employee could take FMLA leave during November and December totaling eight weeks of leave. Come January, however, if the employee meets the eligibility criteria, he would be entitled to another 12 weeks of leave, resulting in 20 weeks of FMLA leave in a row.
Perhaps you currently have employees stacking leave and would like that to change. Perhaps that fourth option — measured backward — is looking pretty good. You don't have any state laws that could influence your choice, so you would like to change the method. While you may do so, you would need to provide at least 60 days' notice to all employees before implementing the change.
During the 60-day transition period, employees must retain the full benefit of 12 weeks of leave under any one of the methods that would provide the greatest benefit to the employee.
Depending upon the circumstance, this could result in a challenging 60 days. For example, you are currently using the calendar method and you wish to change to a rolling backward method. During the 60-day transition period, an employee requests FMLA leave, which is granted. The employee may choose either the calendar method or the rolling backward method for the 12-month period.
At the conclusion of the 60-day transition period, you may begin to implement the new alternative method selected.
This article was written by Darlene Clabault of J. J. Keller & Associates, Inc.
---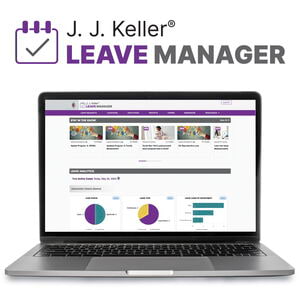 J. J. Keller® FMLA Manager™ Service makes leave tracking easier while complying with the latest federal & state regulations.
---
J. J. Keller's FREE HRClicks™ email newsletter brings quick-read human resources-related news right to your email inbox.