OSHA moves forward with December 1st enforcement date for anti-retaliation provisions
Posted December 1, 2016
In response to a request from a Texas district court, OSHA had delayed the enforcement date of the anti-retaliation provisions in its new injury and illness tracking rule. However, the court denied a petition to place a temporary injunction on the rule, meaning OSHA can begin enforcing the provisions today.
The new Improve Tracking of Workplace Injuries and Illnesses rule has two main provisions. The first requires certain employers to submit their injury and illness data electronically to OSHA. That provision becomes effective on January 1, 2017, with the first reporting date occurring on July 1, 2017.
The second provision requires employers to inform employees about their right to report workplace injuries and illnesses free from retaliation or the threat of retaliation. Revisions to the employee involvement regulations at 1904.35 call for employers to implement a reasonable procedure for employees to report work-related injuries and illnesses. A procedure is not reasonable if it would deter or discourage a reasonable employee from accurately reporting a workplace injury or illness.
Workplace policies that discourage reporting
In the preamble discussion to the final rule and in recently released guidance, OSHA identified three workplace policies that may discourage employee reporting of injuries and illnesses. These include:
Disciplinary policies. Employers must be sure to discipline employees fairly, and not single out or discipline employees who report workplace injuries or illnesses.
Incentive programs. OSHA says it is not prohibiting workplace incentive programs, but they must not deny rewards to employees who report injuries or illnesses. OSHA encourages employers to develop incentive programs that reward employee participation in safety committees, contributions to a suggestion box, or other proactive safety programs rather than reactive programs.
Post-accident drug testing programs. While OSHA is not prohibiting post-accident drug testing, the Agency is prohibiting drug testing, or the threat of drug testing, to discourage reporting of injuries and illnesses. Drug testing done to meet the requirements of a state or federal law, including Workers' Compensation Drug-Free Workplace policies, would not be considered retaliatory. In the same way, random drug testing of employees (not related to an injury or illness) and pre-employment drug testing would also be fine. All other forms of drug testing of employees must be evaluated for their "reasonableness," meaning that the employer must have a reasonable basis for believing that drug use could have contributed to the injury or illnesses. In addition, the method of drug testing chosen must be able to show that the employee was impaired at the time of the incident, and not just that the employee had used drugs at some point in the past.
---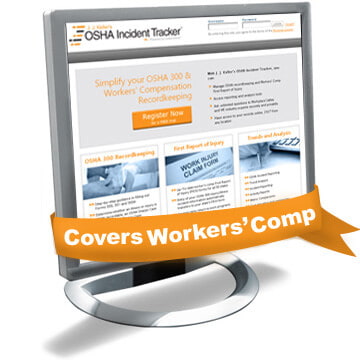 J. J. Keller's OSHA Incident Tracker™ Tool is an up-to-date online service that helps you simplify your OSHA Form 300 and worker's compensation recordkeeping.
---
J. J. Keller's FREE Workplace SafetyClicks™ email newsletter brings quick-read workplace safety and compliance news right to your email box.