DOL updates apprenticeship anti-discrimination regulations
Posted December 30, 2016
The Department of Labor (DOL) recently released a final rule updating the apprenticeship regulations. The agency made the updates to modernize the equal employment opportunity (EEO) regulations that implement the National Apprenticeship Act of 1937. The EEO regulations for apprenticeship were last published in 1978. Since that time, many aspects of the workplace have changed.
The existing regulations prohibit discrimination in registered apprenticeship on the basis of race, color, religion, national origin, and sex, and require that sponsors of registered apprenticeship programs take affirmative action to provide equal opportunity in such programs. The final rule updates equal opportunity standards to include age (40 or older), genetic information, sexual orientation, and disability. The regulation also updates the avenues by which apprentices can ensure their rights.
The final rule goes into effect on January 18, 2017. However, the rule allows for phased-in compliance beyond this period. For instance, sponsors will have 180 days after the publication of the rule (December 19, 2016) to come into compliance with the new nondiscrimination protections, and up to two years to come into compliance with obligations related to their Affirmative Action Programs (AAPs).
---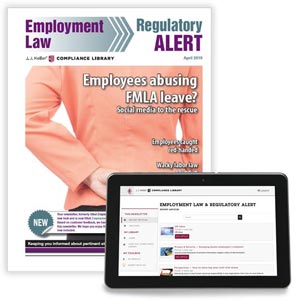 J. J. Keller's Employment Law Today newsletter explains why you need to care, what you need to do and how your business could be affected by HR industry news.
---
J. J. Keller's FREE HRClicks™ email newsletter brings quick-read human resources-related news right to your email inbox.