Common filtering equipment may not adequately protect machine shop workers: study
Posted December 13, 2016
Workers are not being adequately protected from exposure to metalworking fluids in machining shops, according to a recent study coordinated by the Finnish Institute of Occupational Health (FIOH). The study detected deficiencies in air filtering equipment connected to machine tools.
The study concluded that the filtering equipment used in many machining centers is not up to the task of removing gaseous pollutants generated by metalworking fluid. Metalworking fluids used during machining with chip removal, such as turning, milling, drilling, cutting, etc. form aerosols containing particulate matter and gaseous compounds that may be harmful to workers' health.
According to the study, even when individual pollutants do not reach actionable levels, workers may exhibit symptoms such as coughing, stuffy nose, irritated eyes, shortness of breath, asthma, and other respiratory issues.
The FIOH says the pollutants detected in the study were mainly alkanolamines and volatile organic compounds (VOCs). Filters used in most machine shops trap particulate pollutants, but do not capture pollutants that become aerosols.
The FIOH recommends machining centers take the following measures to protect workers from exposures to aerosolized metalworking fluids:
Vent air from filtering equipment directly outdoors.
Significantly increase ventilation to dilute the air pollutant concentrations passing though filtering equipment.
Improve machine filtering to capture gaseous air pollutants. (This is the most energy efficient option.)
Employers should also consider the air flow rate from the machine tool enclosure. When the air flow rate is low, it does not stop pollutants from entering the workspace. Further, low rates of air flow allow dirt and dust to accumulate in ducts, increasing the risk of fire.
Finally, workers may be exposed to metalworking fluids during regular maintenance activities.
---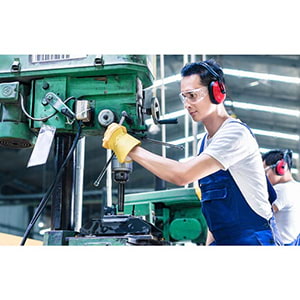 J. J. Keller's Machine Guarding – Online Course helps learners understand the hazards and potential injuries associated with operating machinery.
---
J. J. Keller's FREE Workplace SafetyClicks™ email newsletter brings quick-read workplace safety and compliance news right to your email box.