CDC urges people to protect themselves from the flu
Posted December 13, 2016
The Centers for Disease Control and Prevention (CDC) reports that flu vaccine coverage is low for 2016, with only two out of five people deciding to get vaccinated this season. According to the CDC, the flu vaccine offered substantial benefit last season, preventing an estimated five million flu illnesses and 71,000 hospitalizations due to the flu.
Vaccine coverage estimates are based on survey data collected through early November. Similar to last year's vaccination levels, only forty percent of people overall report having received a flu vaccine. Thirty-seven percent of children aged six months to 17 years and 41 percent of adults have been vaccinated for the flu.
The CDC is especially concerned about vaccination rates for people 50 years and older. Coverage for this age group decreased by three percentage points in the last year. However, the CDC says about a third of people aged 50 to 64 have medical conditions that put them at high risk of serious flu complications. In addition, declining immune function puts people aged 65 and older at a high risk.
Other findings from the CDC show:
The vaccination rate for pregnant women is six percentage points higher than last season, but more than half of pregnant women remain unvaccinated;
The vaccination rate for health care providers is estimated at 69 percent; and
Early estimates for health care personnel working in long-term care facilities is 55 percent, the lowest rate among all health care providers.
This year, the CDC reports that H3N2 viruses are predominant. Flu seasons where the H3N2 virus are predominant tend to be more severe, especially for young children and older adults.
Report on last year's flu season
The CDC also released its report on the impact of the flu vaccine during 2015-16. The flu vaccination last year is credited with reducing the number of flu illnesses and hospitalizations that would have occurred in an unvaccinated population by 19 percent. The report, the CDC concludes, emphasizes the burden of the flu to public health and the missed opportunities to prevent illness through vaccination.
Last season, there were an estimated 25 million flu illnesses and 310,000 flu-associated hospitalizations in the U.S. According to the CDC, if vaccination rates had reached the goal of 70 percent across all age groups, an additional 2.4 million flu illnesses and 19,000 hospitalizations could have been prevented.
The flu vaccine is the first and best way to prevent flu; however, the CDC also recommends influenza antiviral drugs as a second tool to fight the virus. Antiviral drugs are recommended for people at high risk of serious flu complications or who are very sick with the flu.
Influenza activity in the U.S. typically peaks between December and February, but significant flu infections can occur as late as May. Therefore, the CDC points out that vaccinations after November can still provide substantial protection during most seasons.
---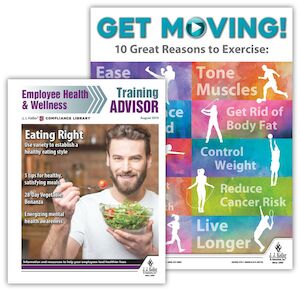 J. J. Keller's LivingRight®: Health & Wellness Awareness Program offers an easy way to help control healthcare costs and promote employee wellness.
---
J. J. Keller's FREE HRClicks™ email newsletter brings quick-read human resources-related news right to your email inbox.