Transportation bill passes House and Senate
Posted December 4, 2015
A five-year highway and transportation bill awaits President Obama's signature, after being approved by both the House and Senate on Thursday, December 3, 2015.
The Fixing America's Surface Transportation (FAST) Act is five-year legislation to improve the nation's surface transportation infrastructure, including roads, bridges, transit systems, and rail transportation network.
The 1,301 page act includes provisions addressing the Federal Motor Carrier Safety Administration's (FMCSA) Compliance, Safety Accountability (CSA) program, as well as drug and alcohol testing. It also includes various exemptions for specific industries.
CSA: The act calls for a study of the CSA program to be conducted by the National Research Council of the National Academics. The study would include analyzing the BASICs ability to locate high-risk carriers and/or predict crash involvement, the methodology used to generate the BASIC scores, data quality, accuracy, and sufficiency, and several other provisions related to the CSA program and its data. The study is to be completed within 18 months.
The act also calls for FMCSA to remove motor carrier BASIC scores from public view one day after the act is enacted. Scores cannot again be public until the National Research Council of the National Academics study is complete. Carriers, drivers, and law enforcement personnel will have access to the scores, and passenger carrier scores are to remain available to the public.
Drug and alcohol testing: Within one year the U.S. Department of Health and Human Services (HHS) is to pass standards for the use of hair follicle testing. Upon passage of these standards, FMCSA is directed to allow the use of hair follicle testing for pre-employment and random tests.
Exemptions: The act includes provisions extending the length of hours-of-service exemptions to five years (going forward), extending the air-mile radius of the construction and materials equipment exemption to 75 miles, and making permanent the exemptions to the 30-minute requirement for the ready-mix, bee, and livestock industries.
---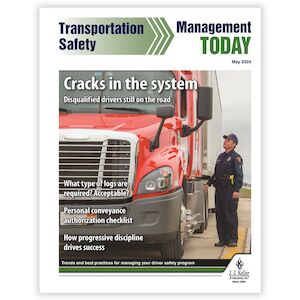 J. J. Keller's Transport Safety Pro Advisor helps you stay on top of the latest regulatory and non-regulatory issues affecting the motor carrier industry.
---
J. J. Keller's FREE Transportation SafetyClicks™ email newsletter brings quick-read safety and compliance news right to your email box.
Sign up to receive Transportation SafetyClicks™.