Overtime rule on hold
Posted November 23, 2016
A federal judge for the Eastern District of Texas has issued a preliminary injunction that puts a nationwide, temporary hold on the Department of Labor's (DOL) revised regulations for the white collar exemptions from overtime.
Background
The overtime exemption rule was finalized in May, requiring employers to pay employees classified as exempt under the executive, administrative, or professional exemptions (also known as the white collar exemptions) a minimum annual salary of $47,476. This new requirement more than doubled the previous threshold of $23,660.
Employers had the option of either raising the salaries of exempt employees to meet the new minimum salary or reclassifying the individuals who no longer met the salary threshold as nonexempt employees. Of course, those nonexempt employees would be due overtime when applicable.
What's next?
While employers are no longer required to meet the new salary requirements by December 1, employers must remember that the rule is delayed, not gone completely. Both the courts and the incoming administration may play a significant role in the rule's future. President-elect Trump could reverse the executive order implemented by President Obama which directed the DOL to create the regulations, but the DOL would still need time to repeal the new provisions.
J. J. Keller & Associates, Inc. will keep you updated on further developments.
This article was written by Michael Henckel of J. J. Keller & Associates, Inc.
---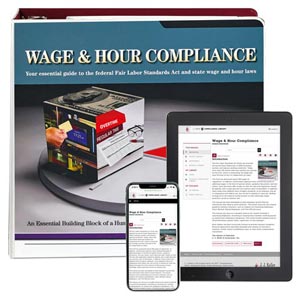 J. J. Keller's Wage and Hour Compliance with FLSA Manual provides critical info to help you comply with the Fair Labor Standards Act (FLSA) and state wage and hour laws.
---
J. J. Keller's FREE HRClicks™ email newsletter brings quick-read human resources-related news right to your email inbox.