Federal judge hears challenge to overtime exemption rule
Posted November 18, 2016
As the December 1, 2016, effective date of the overtime exemption rule draws near, the effort to put a hold on the revised rules still has some life. Judge Amos L. Mazzant, a federal judge for the Eastern District of Texas, heard a motion on a preliminary injunction requesting a halt on the effective date for the revised regulations.
A ruling on the preliminary injunction is expected by Tuesday, November 22, 2016.
Employers should note that a hold on the overtime rule would not mean that the rule is gone completely. The injunction may simply put a hold on the December 1 effective date.
Background
Two lawsuits had been filed challenging the overtime rule. The first lawsuit came from a group of 21 states requesting a permanent injunction of the rule, asserting that the overtime rule is an unconstitutional attempt to "dictate how state and local governments allocate their budgets."
The second lawsuit was filed by a partnership of more than 50 business groups, taking issue with the automatic salary increases every three years, as well as a concern that the Department of Labor raised the salary level too dramatically, which ultimately causes the exemption to be lost for entire categories of employees who perform job duties that qualify them to be treated as exempt.
These lawsuits were consolidated into one, and the groups asked the court for an expedited judgment.
Stay tuned
While it is unclear how Judge Mazzant will rule, employers should continue to prepare for the December 1 effective date.
J. J. Keller & Associates, Inc. will keep you updated on further developments.
This article was written by Michael Henckel of J. J. Keller & Associates, Inc.
---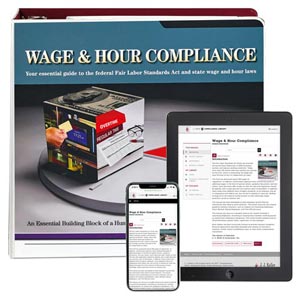 J. J. Keller's Wage and Hour Compliance with FLSA Manual provides critical info to help you comply with the Fair Labor Standards Act (FLSA) and state wage and hour laws.
---
J. J. Keller's FREE HRClicks™ email newsletter brings quick-read human resources-related news right to your email inbox.