Employer insurance plans must include definition of essential health benefits
Posted November 3, 2016
New regulations under the Affordable Care Act (ACA) will require certain employer insurance plans to include a definition of "essential health benefits" (EHB) for plan years beginning on or after January 1, 2017. The affected plan types include self-insured group health plans as well as grandfathered plans.
The Department of the Treasury, Department of Labor, and Department of Health and Human Services published these regulations in the Federal Register on October 31.
EHB definition
Under the ACA, self-insured group health plans, large group market health plans, and grandfathered health plans are not required to offer EHB, although many such plans offer some (or all) of these benefits. If EHB coverage is included, the plan generally cannot place lifetime or annual dollar limits on those services.
The ten EHBs include:
Ambulatory patient services (outpatient care you get without being admitted to a hospital)
Emergency services
Hospitalization (like surgery and overnight stays)
Pregnancy, maternity, and newborn care (both before and after birth)
Mental health and substance use disorder services, including behavioral health treatment (includes counseling and psychotherapy)
Prescription drugs
Rehabilitative services and devices (to help people with injuries, disabilities, or chronic conditions gain or recover mental and physical skills)
Laboratory services
Preventive and wellness services and chronic disease management
Pediatric services, including oral and vision care (but adult dental and vision coverage aren't essential health benefits)
To ensure that plans do not place annual or lifetime dollar limits on EHBs, the final regulations provide that, for plan years beginning on or after January 1, 2017, the plan or issuer must define the term "essential health benefits." The term must be defined in a manner consistent with any of the 51 base-benchmark plans applicable in a state or the District of Columbia, or one of the three Federal Employees Health Benefits Program EHB base-benchmark plans.
Plans may continue to impose annual and lifetime dollar limits on benefits that do not fall within the definition of EHB. Plans are also permitted to impose limits other than dollar limits on EHB, as long as they comply with other applicable statutory provisions.
This article was written by Ed Zalewski of J. J. Keller & Associates, Inc.
---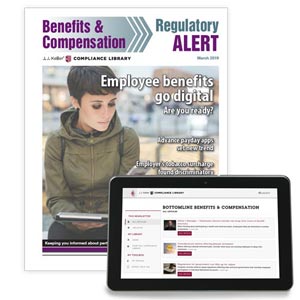 J. J. Keller's BottomLine Benefits & Compensation is an 8-page, monthly newsletter that addresses key issues relating to benefits and compensation programs.
---
J. J. Keller's FREE HRClicks™ email newsletter brings quick-read human resources-related news right to your email inbox.