EPA publishes more 'user-friendly' hazardous waste generator rules
Posted November 29, 2016
On November 28, EPA published the final Hazardous Waste Generator Improvements Rule (HWGIR) in the Federal Register, calling them more "user friendly."
This rule is intended to "improve" generators' understanding and compliance with the hazardous waste regulations under the Resource Conservation and Recovery Act (RCRA). As the "cradle" in the "cradle-to-grave" regulatory management system, hazardous waste generators are confronted with a complicated set of existing regulations that are designed to ensure hazardous waste is properly identified, managed, and disposed of.
Until now, the regulations applying to the three different types of hazardous waste generators (large quantity, small quantity, and very small quantity) have been spread throughout 40 CFR Parts 260-280. The new rule reorganizes the regulations to improve their usability.
EPA made over 60 regulatory changes in the final rule. States must adopt the more stringent regulatory requirements to maintain their approved status under RCRA. States are not required to adopt the less stringent regulatory requirements.
More stringent requirements
The final rule includes new stringent requirements. These include:
Labeling: Generators must identify the hazards of the waste on container labels while the waste is being accumulated.
Emergency response: EPA updated the emergency response and contingency planning provisions for small and large quantity generators to include local emergency planners among the organizations with which a generator may make response arrangements.
Less stringent requirements
The rule also includes a few less stringent requirements, including:
Episodic generation: EPA removed a provision requiring very small or small quantity generators to automatically move to a higher generator category because of an unusually large waste generation event.
Sending waste to a large generator: Under certain circumstances, a very small quantity generator may send hazardous waste to a large quantity generator under the control of the same person.
Ignitable waste: Large quantity generators may petition their local fire department for a waiver of the rule to keep ignitable waste containers at least 50 feet from the property line.
Other notable revisions
Other revisions worth noting include:
Renaming: The final rule renames conditionally exempt small quantity generators as very small quantity generators.
Obsolete references: EPA removed obsolete references in the regulations such as the Performance Track Program.
Acute and non-acute waste: The regulations also clear up misunderstandings on the status of generators who accumulate both acute and non-acute hazardous waste in the same month.
Online training: The rule allows generators to use online training programs to train personnel.
The final rule is effective on May 30, 2017, for states and territories that are not authorized to run their own hazardous waste programs.
---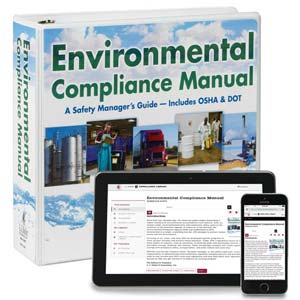 J. J. Keller's Environmental Compliance Manual is packed with easy-to-understand information on regulations, environmental issues and compliance.
---
J. J. Keller's FREE Workplace SafetyClicks™ email newsletter brings quick-read workplace safety and compliance news right to your email box.