DOT lifts border-crossing restrictions on leased vehicles
Posted November 23, 2016
A 17-year-old restriction preventing Mexico-domiciled carriers from leasing vehicles to U.S.-bound motor carriers has been lifted, the Federal Motor Carrier Safety Administration (FMCSA) has announced.
The restriction was included in the Motor Carrier Safety Improvement Act of 1999 (MCSIA). It prevented Mexico-domiciled motor carriers from leasing commercial vehicles to U.S. carriers to transport property into the United States until certain obligations in the North American Free Trade Agreement (NAFTA) had been met.
The FMCSA says it met those obligations through its U.S.-Mexico Cross Border Long-Haul Trucking Pilot Program, which ran from October 2011 to October 2014. The program was used to determine the ability of Mexican motor carriers to operate safely in the United States.
On January 15, 2015, the FMCSA began processing applications for long-haul operating authority from Mexico-domiciled property carriers, effectively making the leasing restrictions obsolete.
The FMCSA says the policy change was necessary "to prevent inconsistent enforcement of a law that is no longer applicable."
"In accordance with NAFTA and MCSIA, Mexican-domiciled motor carriers (lessors) are allowed to lease their equipment to U.S. motor carriers (lessees) regardless of the destination of the cargo, as long as the carriers meet the requirements of 49 CFR Part 376," the FMCSA announced.
Included in Part 376 are requirements that the "authorized carrier" (in this case, the U.S. motor carrier) assume "complete responsibility for the operation of the equipment for the duration of the lease."
The policy change took effect on November 22, 2016.
---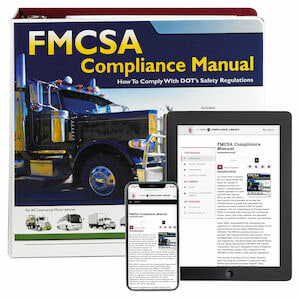 J. J. Keller's FMCSA Compliance Manual is the perfect resource for anyone managing or operating commercial motor vehicles (CMVs).
---
J. J. Keller's FREE Transportation SafetyClicks™ email newsletter brings quick-read safety and compliance news right to your email box.