Brake Safety Week results released by CVSA
Posted November 16, 2016
The Commercial Vehicle Safety Alliance (CVSA) reports that 13.2 percent of commercial motor vehicles (CMVs) inspected during Brake Safety Week had out-of-service brake violations. Inspectors also reported that 14.8 percent of inspected CMVs were found to have non-brake related out-of-service violations. Some CMVs were found to have violations in both categories.
Brake Safety Week took place September 11-17, 2016. During the week-long safety campaign, local, state, provincial, territorial, and federal inspectors throughout the United States and Canada conducted inspections to identify out-of-adjustment brakes and brake-system violations. CVSA roadside inspection personnel performed 18,385 CMV and brake-system inspections during this time period.
CVSA uses the event as an opportunity for outreach and an effort to educate the transportation industry. It serves as a reminder to motor carriers and drivers to take proactive steps in making sure their vehicle's brakes are compliant and safe.
Truck stats
CVSA reports (based on date of manufacture):
93.2 percent of air-braked trucks (including tractors) inspected and 90.4 percent of hydraulic-braked trucks inspected required an anti-lock braking system (ABS), and
89.4 percent of air-braked trailers inspected required ABS.
The safety campaign also revealed the following had ABS violations:
8.8 percent of ABS-required, air-braked trucks, and
8.8 percent ABS-required, hydraulic-braked trucks.
Trailer facts
The event yielded the following results in regard to CMV trailers:
15.8 percent of trailers requiring ABS were found with ABS violations, and
7.6 percent of trailers inspected were not air- or hydraulic-braked (i.e., electric, surge or other) and therefore not subject to ABS requirements.
Bus data
Far fewer buses were inspected than trucks during Brake Safety Week. According to CVSA, 328 buses and motor coaches were inspected during this event. Of those passenger vehicles inspected:
80.8 percent required ABS, and
Only 2 buses (0.8 percent of those requiring ABS) exhibited ABS violations.
For additional information on Brake Safety Week and other CVSA enforcement campaigns, visit cvsa.org.
---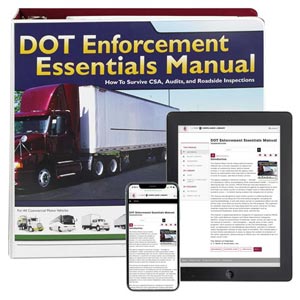 J. J. Keller's DOT Enforcement Essentials Manual is a tool that helps proactively enforce in-house and roadside compliance and prepare for FMCSA audits.
---
J. J. Keller's FREE Transportation SafetyClicks™ email newsletter brings quick-read safety and compliance news right to your email box.