Big changes about to happen for hazardous waste generators, importers, exporters
Posted November 1, 2016
As the Resource Conservation and Recovery Act (RCRA) turns 40, EPA is making major changes to the hazardous waste regulations, especially as they apply to hazardous waste generators.
On October 28, EPA head Gina McCarthy signed the Hazardous Waste Generator Improvements Rule.
Until now, the regulations for the three hazardous waste generator categories had been spread throughout 40 CFR Parts 260-280. The new rule consolidates the regulations as they apply to generators.
The final rule includes over 60 regulatory changes. Major revisions include:
Renaming Conditionally Exempt Small Quantity Generators (CESQGs) to Very Small Quantity Generators (VSQGs).
Allowing VSQGs to send hazardous waste to a Large Quantity Generator (LQG) that is under the control of the same person.
Removing the requirement that a VSQG or Small Quantity Generator (SQG) move to a higher generator category because of an episodic event, provided the waste is properly managed.
Updating the emergency response and contingency planning provisions for SQGs and LQGs to include local emergency planners among the organizations with which a generator may make response arrangements.
Revising the labeling and marking of containers and tanks to clearly indicate the hazards of the hazardous waste contained inside.
The final rule will become effective at the federal level six months after publication in the Federal Register. In states and territories that are not authorized to run their own hazardous waste programs (Alaska, Iowa, tribal lands, Puerto Rico, American Samoa, N. Mariana, and the Virgin Islands) the rule will go into effect then.
Authorized states must adopt the provisions in the regulation that are more stringent than the current regulations.
Hazardous Waste Exports and Imports
In another October 28 action, EPA finalized the Hazardous Waste Export-Import Revisions rule. The rule becomes effective in all states on Dec. 31, 2016.
The rule revises existing regulations regarding the exports and imports of hazardous wastes from and into the United States. Major provisions include:
Improved export and import shipment tracking;
Consolidated requirements applying to all imports and exports;
Mandatory electronic reporting to EPA; and
Links the consent to export with the electronic export information submitted to U.S. Customs and Border Protection (CBP).
This article was written by Lisa Neuberger of J. J. Keller & Associates, Inc.
---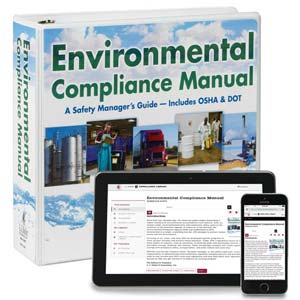 J. J. Keller's Environmental Compliance Manual covers environmental issues plus EPA, OSHA & DOT compliance info.
---
J. J. Keller's FREE Workplace SafetyClicks™ email newsletter brings quick-read workplace safety and compliance news right to your email box.