Timing is everything for handling FMLA leave and a reduction in force
Posted November 13, 2015
Eligible employees have no greater right to reinstatement or other benefits and conditions of employment than if they had been continuously employed during a period of leave under the Family and Medical Leave Act (FMLA). This might seem fairly clear on the surface, but what if an employee who once was underperforming (and is in-line for a reduction in force (RIF)) has improved? What if the employee was slated for a move to a different position, but before being told about the move, she informed you that she was pregnant? What if, upon return to work, that employee was reassigned instead of being returned to her previous position, complained about the reassignment, and was terminated?
All these issues combined for one employer, and a court chimed in with its opinion.
Case in point
Dahlia, an employee, had a history of job performance issues. After the company was purchased by a new owner, the managers were told to rank their employees and discharge the lowest performers. Dahlia's managers identified her as a low performer, but they decided to move her to a different position instead of terminating her. Before telling Dahlia of the move, Dahlia indicated she was pregnant, and it was high risk. The managers decided to wait to tell Dahlia of the move after she returned from having the baby, to help avoid causing additional stress.
Dahlia's job performance had earned the company some praise from clients; however, a large client took its business elsewhere. As a result, managers were told to reduce payroll by 10percent. Dahlia was again in the target range. When Dahlia returned from leave after having her baby, she was reassigned. She viewed the reassignment as a demotion, and she complained to human resources (HR), indicating that she was entitled to her previous position.
Dahlia was terminated five days after lodging the compliant, and she sued, arguing that the company failed to restore her to the position she had before she went on leave, as required. She also argued that the company retaliated against her by terminating her because she complained to HR about the reinstatement.
The employer argued that Dahlia was terminated because the loss of a major client required the company to make cuts.
The court indicated that where an employer has known about its stated reason for taking adverse action against an employee for an extended period of time, as this company did in regard to moving Dahlia, but acts only after the employee engages in protected activity, the employer's earlier inaction supports an inference of pretext. Therefore, the case was allowed to proceed to trial.
Terminating employees who are on, will take, or have taken FMLA leave can be tricky. The reason for such a decision should have nothing to do with the employee's exercising of his or her FMLA rights nor should it look like it did. It also helps if the action does not occur around the time of the employee exercising those rights.
Brown v. Diversified Distribution Systems, LLC, Eighth Circuit Court of Appeals, No. 14-2685, September 4, 2015.
---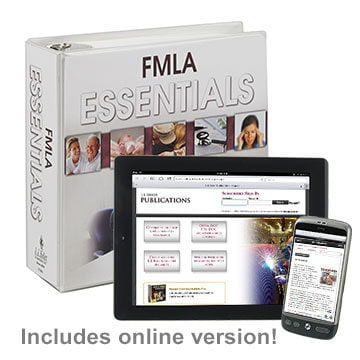 J. J. Keller's FMLA Essentials manual helps HR pros understand and comply with the requirements, control costs related to leave taken and minimize the law's potential disruption to their organizations' operations.
---
J. J. Keller's FREE HRClicks™ email newsletter brings quick-read human resources-related news right to your email inbox.