Still time to comment on ISEA high-visibility apparel, hand protection revisions
Posted November 16, 2015
The International Safety Equipment Association (ISEA) is seeking public comment on draft revisions to its voluntary consensus standards for high-visibility safety apparel and hand protection selection.
These documents were drafted by ISEA Product Groups, and members of the public are invited to provide comment during this review period. ISEA must receive public comments by November 23, 2015.
Although widely accepted, ANSI/ISEA 107 on high-visibility safety apparel is a voluntary industry consensus standard. It is cited in the Manual on Uniform Traffic Control Devices (MUTCD), which is the basis for federal and state highway regulations requiring high-visibility protective garments for right-of-way workers, flaggers, and adult crossing guards.
The proposed revision seeks to consolidate the requirements of ANSI/ISEA 107 and ANSI/ISEA 207, American National Standard for Public Safety Vests in an effort to establish a single, comprehensive document that considers all occupational tasks. While still preserving the performance class designation based on material minimum areas, the updated standard identifies garment types based on expected use settings and work activities being performed, these are designated as off-road (type O), roadway and temporary traffic control (type R), or public safety activities (type P).
In response to the growing use of high-visibility accessory items such as arm bands or headwear, the standard defines minimum material requirements for these accessories. New labeling requirements are proposed to identify the garment by performance class, type, and by its flame resistance characteristics as defined in the standard. Finally, enhanced illustrations of compliant and non-compliant designs are provided.
The ANSI/ISEA 105 standard on hand protection selection criteria addresses the classification and testing of hand protection for specific performance properties related to mechanical protection (cut-resistance, puncture resistance and abrasion resistance), chemical protection (permeation resistance, degradation), and other performance characteristics such as ignition resistance and vibration reductions.
Updates to the standard will reflect current technologies, applications, and use and to harmonize the criteria with international standards.
Cut-resistance testing and classification is a key area of focus for this revision including the use of a single test method for testing in effort to provide consistent meaning of the ratings from the end-user perspective; and possible expansion of the classification levels address the disparate gap among certain levels seen in earlier versions and to model the approach used in similar international standards.
Another area for consideration is the incorporation of a needlestick puncture test, recognizing that this is a common potential exposure for the medical, sanitation, and recycling industries. Contact ISEA with any questions. Requests for copies can be sent to isea@safetyequipment.org. The cost for public review copies are $60 for ANSI/ISEA 107 and $35 for ANSI/ISEA 105.
---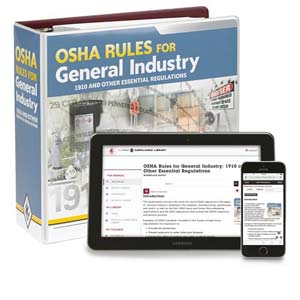 J. J. Keller's OSHA for General Industry: 1910 and Other Essential Regulations offers quick access to OSHA's word-for-word 29 CFR Part 1910 workplace safety regulations along with Parts 1903 and 1904.
---
J. J. Keller's FREE Workplace SafetyClicks™ email newsletter brings quick-read workplace safety and compliance news right to your email box.