Private health plans lower smoking rates twofold, study finds
Posted November 18, 2015
American adults who are uninsured or on Medicaid smoke at rates more than double those for adults with private health insurance or Medicare, according to a study published by the Centers for Disease Control and Prevention (CDC) in Morbidity and Mortality Weekly Report (MMWR).
Data from the 2014 National Health Interview Survey (NHIS) show that 27.9 percent of uninsured adults and 29.1 percent of Medicaid recipients currently smoke. By contrast, 12.9 percent of adults with private insurance and 12.5 percent of those on Medicare currently smoke.
"Smoking kills half a million Americans each year and costs more than $300 billion," said CDC Director Tom Frieden, M.D., M.P.H.
Specifically, that is nearly $170 billion in direct medical care for adults, according to a report published in the American Journal of Preventative Medicine. Plus, an additional $156 billion in lost productivity due to premature death and exposure to secondhand smoke.
The study reported that the prevalence of cigarette smoking among U.S. adults declined from 20.9 percent to 16.8 percent from 2005 to 2014, including a full percentage-point decline between 2013 and 2014 alone.
Another major finding was that the average number of cigarettes smoked per day among daily smokers declined from 16.7 in 2005 to 13.8 in 2014 — driven by declines in the proportion of daily smokers who smoked 20 or more cigarettes per day.
At-risk populations
The study found other differences in smoking rates consistent with previous studies. In 2014, prevalence of cigarette smoking was higher among these groups:
Males (18.8 percent vs. 14.8 percent for females)
Adults ages 25-44 years (20.0 percent)
Multiracial (27.9 percent) or American Indian/Alaska Natives (29.2 percent)
People with a General Education Development certificate (43.0 percent)
People who live below the federal poverty level (26.3 percent)
People who live in the Midwest (20.7 percent)
People who have a disability/limitation (21.9 percent)
People who are lesbian, gay, or bisexual (23.9 percent)
According to the CDC, changes in the U.S. health care system continue to offer opportunities to help improve the use of clinical preventive services among adults. Additionally, the agency says the Patient Protection and Affordable Care Act (PPACA) of 2010 is increasing the number of Americans with health insurance and is expected to improve tobacco cessation coverage. The CDC says cessation coverage is used most when smokers and health care providers know which cessation treatments are covered.
---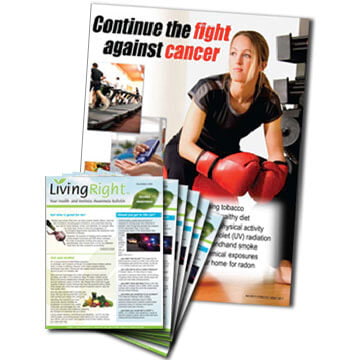 J. J. Keller's LivingRight®: Health & Wellness Awareness Program offers an easy way to help control healthcare costs and promote employee wellness.
---
J. J. Keller's FREE HRClicks™ email newsletter brings quick-read human resources-related news right to your email inbox.