New anti-coercion rules nearing publication
Posted November 16, 2015
The White House has given its stamp of approval to new rules designed to prevent commercial drivers from being forced into violating safety rules, clearing the way for publication.
The Office of Management and Budget (OMB) has been reviewing the rules since last summer and granted approval on November 12, 2015. Clearance from OMB is the final step before the Federal Motor Carrier Safety Administration (FMCSA) can put new rules into effect.
The new anti-coercion rules are expected to prohibit motor carriers, shippers, brokers, freight forwarders, and receivers from pressuring drivers into operating commercial motor vehicles (CMVs) in violation of federal safety or hazardous materials regulations.
In their proposed form, the rules included procedures for drivers to report incidents of coercion to the FMCSA, and the steps the agency would have to take in response.
The FMCSA has said the rules are meant to help protect drivers from those in the logistics chain who are frequently indifferent to the operational limits imposed by the Federal Motor Carrier Safety Regulations (FMCSRs).
"Drivers who object that they must comply with the FMCSRs are sometimes told to get the job done despite the restrictions imposed by the safety regulations," the FMCSA wrote. "The consequences of their refusal to do so are either stated explicitly or implied in unmistakable terms: loss of a job, denial of subsequent loads, reduced payment, denied access to the best trips, etc."
Violators could face civil penalties of up to $11,000 per offense. In addition, the FMCSA is authorized to suspend, amend, or revoke the operating authority registration of a for-hire motor carrier, broker, or freight forwarder for acts of driver coercion.
The anti-coercion rules were required by Congress in the Moving Ahead for Progress in the 21st Century Act (MAP-21).
The FMCSA has not yet announced a publication date for the new rules.
---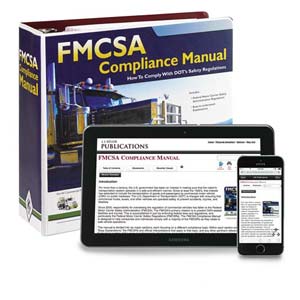 J. J. Keller's FMCSA Compliance Manual is the perfect resource for anyone managing or operating commercial motor vehicles (CMVs).
---
J. J. Keller's FREE Transportation SafetyClicks™ email newsletter brings quick-read safety and compliance news right to your email box.
Sign up to receive Transportation SafetyClicks™.
.