FMCSA orders shutdown of Ohio trucking company
Posted November 23, 2015
The Federal Motor Carrier Safety Administration (FMCSA) has declared a Jefferson, Ohio-based trucking company to be an imminent hazard to public safety and ordered that it immediately cease all intrastate and interstate operations.
According to the FMCSA, on October 4, 2015, a commercial vehicle operated by the company was stopped for an unannounced roadside safety inspection in Missouri. A total of 43 safety violations were recorded during the inspection, including 13 out-of-service violations such as multiple instances of improperly adjusted or inoperable brakes, defective brake components, cracked frame rails, load securement violations, and falsified hours-of-service log books.
It was further discovered that the company had been operating in violation of two separate out-of-service orders, one of which dated back to October 2014.
On October 13, 2015, FMCSA safety investigators visited the company to conduct an unscheduled compliance review. The investigators observed an "out-of-business" announcement on the premises. The investigators left and also sent by express mail copies of a demand for access letter and an administrative subpoena for company documents. The company has yet to provide FMCSA safety investigators with access to the subpoenaed documents.
Due to the denial of access, the company has been unwilling to produce proof to FMCSA that the company has a safety program. The company's refusal to allow FMCSA access, its continued operation despite two out-of-service orders, its continued use of unsafe vehicles, and its failure to comply with hours-of-service regulations designed to prevent fatigued driving substantially increase the likelihood of serious harm to drivers, passengers, and the motoring public.
Violating an imminent hazard out-of-service order and operating without operating authority and a USDOT number may result in civil penalties up to $60,000 as well as a criminal penalty, including a fine of up to $25,000 and imprisonment not to exceed one year.
---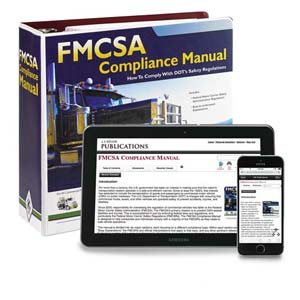 J. J. Keller's FMCSA Compliance Manual is the perfect resource for anyone managing or operating commercial motor vehicles (CMVs).
---
J. J. Keller's FREE Transportation SafetyClicks™ email newsletter brings quick-read safety and compliance news right to your email box.
Sign up to receive Transportation SafetyClicks™.