EPA publishes proposed rule for handling refrigerants
Posted November 12, 2015
On November 9, EPA published a proposed rule regarding refrigerant management requirements. The proposed rule would update existing requirements as well as extend them, as appropriate, to non-ozone-depleting substitute refrigerants, such as hydrofluorocarbons (HFCs). HFCs are a potent greenhouse gas used in refrigeration and air conditioning.
The Clean Air Act (CAA) prohibits the knowing release of ozone-depleting and substitute refrigerants during the course of maintaining, servicing, repairing, or disposing of appliances or industrial process refrigeration. The existing regulations require that persons servicing or disposing of air-conditioning and refrigeration equipment observe certain service practices that reduce emissions of ozone-depleting refrigerant.
EPA's proposed updates include:
Strengthening leak repair requirements,
Establishing recordkeeping requirements for the disposal of appliances containing five to 50 pounds of refrigerant,
Revisions to the technician certification program, and
Changes for improved readability, compliance, and restructuring of the requirements.
According to EPA, this action would reduce emissions of ozone-depleting substances and gases with high global warming potentials.
Comments must be received on or before January 8, 2016. Use the Federal eRulemaking Portal at www.regulations.gov to submit comments identified by Docket ID No. EPA–HQ–OAR–2015–0453.
---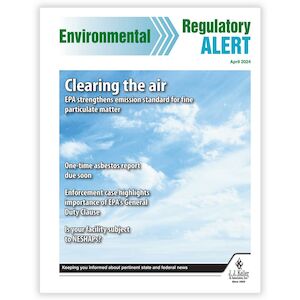 J. J. Keller's Environmental Alert: The Compliance Guide for Safety Professionals helps you stay on top of the latest environmental enforcement issues.
---
J. J. Keller's FREE Workplace SafetyClicks™ email newsletter brings quick-read workplace safety and compliance news right to your email box.