EPA proposing to increase permit terms for landfills
Posted November 18, 2015
EPA is proposing to revise the maximum permit term for Municipal Solid Waste Landfill (MSWLF) units operating under Research, Development and Demonstration (RD&D) permits. The RD&D permit program, which began in 2004, allows landfill facilities to utilize innovative and new methods that vary from the prescribed run-on control systems, liquids restrictions, and final cover criteria if these systems are determined by the director of states with EPA-approved RD&D programs.
According to EPA, the current rule limits permits for these units to three years each, renewable three times for a total permit term of 12 years. If finalized, this rule will allow the director of an approved state to increase the number of permit renewals to six, for a total permit term of up to 21 years. EPA is not proposing any other changes to the existing MSWLF RD&D permit program at this time.
Comments on this proposed rule must be received on or before December 14, 2015. Submit comments using Docket ID No. EPA–HQ–RCRA–2015–0126 to the Federal eRulemaking Portal at www.regulations.gov.
---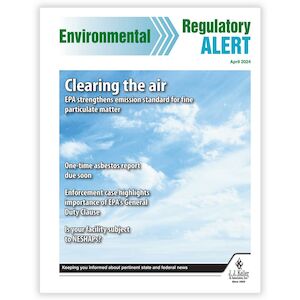 J. J. Keller's Environmental Alert: The Compliance Guide for Safety Professionals helps you stay on top of the latest environmental enforcement issues.
---
J. J. Keller's FREE Workplace SafetyClicks™ email newsletter brings quick-read workplace safety and compliance news right to your email box.