DOT provides guidance on the eCCF
Posted November 24, 2015
The Office of Drug and Alcohol Policy and Compliance issued a final rule on April 13, 2015, that allows employers, collectors, laboratories, and Medical Review Officers to use the electronic version of the Federal Drug Testing Custody and Control Form (eCCF) in the Department of Transportation (DOT)-regulated drug testing program. The final rule was effective April 13, 2015.
Because the use of the eCCF is new to the DOT drug testing process, the agency has provided a notice to collectors which provides guidance on the use of the eCCF. It includes information on the following:
The final rule authorizing the use of the eCCF,
When a collector can begin using the electronic version,
A listing of approved laboratories,
The collection process,
How the eCCF may not always be totally paperless,
Record retention requirements, and
Security and confidentiality measures.
The DOT reminds collectors to begin using the eCCF only when the employer's laboratory has been approved through the Department of Health and Human Services National Laboratory Certification Program to use a specific eCCF and the employer has decided to use the eCCF.
Click here to view the quidance.
---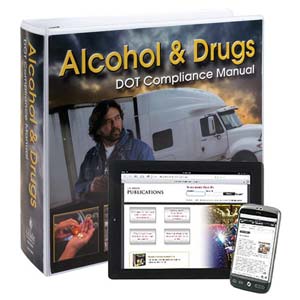 J. J. Keller's Alcohol & Drugs DOT Compliance Manual can help you understand and comply with DOT's Alcohol & Drug Testing requirements, including 49 CFR Parts 382 and 40.
---
J. J. Keller's FREE Transportation SafetyClicks™ email newsletter brings quick-read safety and compliance news right to your email box.
Sign up to receive Transportation SafetyClicks™.