DOL investigation finds more than 450 FMLA violations at Georgia hospital
Posted November 24, 2015
Investigators from the U.S. Department of Labor's Wage and Hour Division (WHD) found that an Athens, Georgia-based health care center had more than 460 violations of the Family and Medical Leave Act (FMLA) in a two-year period ending June 2015. The FMLA provides employees time off to care for their families or for their own serious health condition without risking their jobs.
The violations found by the WHD include the failure to:
Provide employees requesting FMLA leave a timely notice of their eligibility for leave,
Notify employees of their rights and responsibilities under FMLA,
Inform employees on a timely basis whether or not their leave was designated as FMLA, and
Keep accurate records as required under the act.
According to the WHD, these notification and designation violations created situations where employees were unlawfully denied FMLA protected leave, or leave taken was not properly designated as FMLA, which can impact an employee's personnel records and can put workers at risk for suspension, termination of employment, and other adverse employment actions.
The hospital has signed an Enhanced Compliance Agreement with the WHD, agreeing to take proactive measures to ensure future compliance with the FMLA. The employer agreed to:
Set up an FMLA hotline so that employees will have access to one direct number to call when requesting FMLA leave;
Provide training, at least annually, to all front-line supervisors and other employees who may receive FMLA calls from workers on their responsibilities and rights under the FMLA;
Initiate an ongoing monitoring program to review the employer's compliance with FMLA which includes a thorough review of a sampling of FMLA requests every six months; and
Provide annual training for all of their employees regarding their FMLA rights.
The WHD states that an employer is prohibited from interfering with, restraining or denying the exercise of, or the attempt to exercise, any FMLA right. Prohibited conduct includes failing to notify an employee of his or her rights under the FMLA when aware that the employee is taking FMLA-qualifying leave.
---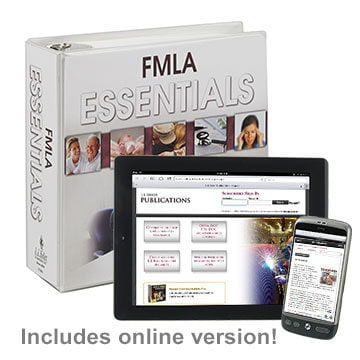 J. J. Keller's FMLA Essentials manual helps HR pros understand and comply with the requirements, control costs related to leave taken and minimize the law's potential disruption to their organizations' operations.
---
J. J. Keller's FREE HRClicks™ email newsletter brings quick-read human resources-related news right to your email inbox.