Cold and flu season can present risks to commercial drivers
Posted November 25, 2015
With the arrival of cold and flu season, it may be a good time to remind your drivers of some of the dangers associated with driving or performing other tasks when not feeling one hundred percent. A driver can become impaired due to fever, chills, feeling weak or light headed, nasal congestion, sore throat, swollen glands, ear ache, cough, or watery, itchy eyes. Both dispatch and the driver need to assess their ability to operate a commercial motor vehicle safely. Even if they have no medications in their system, they could be cited if appearing ill or fatigued during a roadside inspection (§392.3).
Drivers need to read labels carefully when selecting over-the-counter cold and flu medications. Drowsiness is a common side effect. If the medication contains alcohol, this could be a violation if consumed while on duty or within 4 hours of coming on duty. A driver who is taking an antihistamine that is a stimulant may find their heart racing and blood pressure elevated, especially if they add caffeine to the mix. They may also find it difficult to sleep when it comes time for a rest period. Drivers with commercial driver's licenses (CDLs) can be disqualified under §383.51 if they are cited under state traffic law for being under the influence of a Schedule I through Schedule V controlled substance, which includes some over-the-counter medications.
If a driver visits a health care professional for treatment of a cold or flu, they need to ensure any prescription is not a Schedule I drug (see §392.4 and §391.41(b)(12)). Even if the medication is not on Schedule I, the drivers need to communicate with the medical professional about its side effects. Will it impair their ability to operate a CMV? If taking more than one medication, the driver should always check for drug interactions and consult with their physician or a pharmacist if they have questions on its use and side effects. Drivers should be discouraged from taking over the recommended dosage of any medication, including over-the-counter items.
The bottom line is that drivers are expected to know when their bodies are telling them they can't and shouldn't be driving. To do otherwise might result in citations, or worse yet — an accident.
---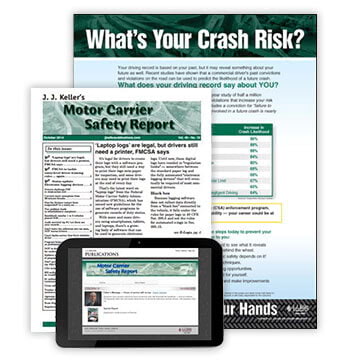 J. J. Keller's Motor Carrier Safety Report keeps you current on federal and state compliance information that impacts your drivers, trucks, and bottom line.
---
J. J. Keller's FREE Transportation SafetyClicks™ email newsletter brings quick-read safety and compliance news right to your email box.
Sign up to receive Transportation SafetyClicks™.