Agency issues proposed rule for the 2017 Health Insurance Marketplaces
Posted November 30, 2015
The Centers for Medicare & Medicaid Services (CMS) issued the proposed annual Notice of Benefit and Payment Parameters for 2017, governing participation in the Health Insurance Marketplaces. The document is expected to be published in the Federal Register on December 2, 2015. The proposed rule seeks to improve the consumer experience, both when individuals shop for health insurance and when they use it.
According to the CMS, the proposed rule would increase options for employees in the federal Small Business Health Options Program (SHOP) for plan years beginning in 2017 and beyond. Under current regulations, employers participating in the federal SHOP Marketplace can offer their employees either one health plan and/or one dental plan, or all health and dental plans across one metal level (or actuarial value, for dental plans). Under the proposal, employers would be able to offer all plans across all levels of coverage from one insurance company.
CMS is also proposing to give issuers the choice of offering plans with standardized options such as cost-sharing. Health plans would not be required to issue such plans and could continue to offer other plans with more variable plan designs, as well as the proposed optional standardized plans, so consumers can choose the plan that's right for them.
The agency recognizes that once consumers enroll in coverage, many still need assistance in understanding and using their coverage, the proposed rule seeks comment on expanding the required duties of Navigators. The expanded duties would include specific post-enrollment assistance activities such as Marketplace eligibility appeals, applying for exemptions through the Marketplace, and navigating the transition from coverage to care.
The agency is seeking comments on the proposed rule. Comments must be submitted no later than 5 p.m. on December 21, 2015 to www.regulations.gov using file code CMS 9937-P.
See the CMS Fact Sheet at www.cms.gov/CCIIO/Resources/Fact-Sheets-and-FAQs/index.html for more details on the proposed rule.
---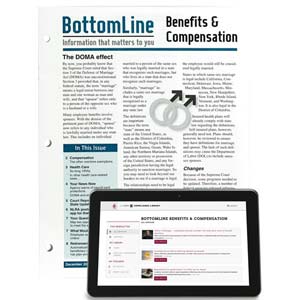 J. J. Keller's BottomLine Benefits & Compensation is an 8-page, monthly newsletter that addresses key issues relating to benefits and compensation programs.
---
J. J. Keller's FREE HRClicks™ email newsletter brings quick-read human resources-related news right to your email inbox.