Stakeholders asked to comment on FMCSA's sleeper berth pilot program
Posted October 30, 2017
The public has been given 30 days to comment on the data collection behind a proposed pilot program to study the use of split sleeper berth time by commercial drivers.
The Federal Motor Carrier Safety Administration (FMCSA) is required under the "Paperwork Reduction Act of 1995" to submit an Information Collection Request (ICR) to the Office of Management and Budget (OMB) for review and approval before proceeding with the data collection.
The agency announced the proposed pilot program on June 27, 2017, in a Federal Register notice with a 60-day public comment period. As of the closing date, the agency received five comments in response to this notice.
Metrics used during pilot program
The proposed pilot program would allow temporary regulatory relief from the agency's sleeper berth regulation for a limited number of commercial drivers who:
Have a valid commercial driver's license (CDL), and
Regularly use a sleeper berth to accumulate their required 10 hours of non-duty work status.
During the pilot program, participating drivers would have the option to split their sleeper berth time within parameters specified by FMCSA.
FMCSA seeks to produce reliable statistical evidence to determine whether split sleeper berth time affects driver safety performance and fatigue levels.
FMCSA has indicated that details of the data collection plan for this pilot program are subject to change based on the comments it receives. Current plans include a 3-month commitment by participating drivers, using an instrumented vehicle.
During the study, FMCSA intends on gathering:
Electronic logging device (ELD) data, to evaluate duty hours and timing, driving hours and timing, rest breaks, off-duty time, and restart breaks.
Onboard monitoring system (OBMS) data, to evaluate driving behaviors, safety-critical events (or SCEs, which include crashes, near-crashes, and other safety-related events), reaction time, fatigue, lane deviations, and traffic density, road curvature, and speed variability.
Roadside violation data (from carriers and drivers), including vehicle, duty status, hazardous materials, and cargo-related violations (contingent upon inspections).
Wrist actigraphy data,to evaluate total sleep time, time of day sleep was taken, sleep latency, and intermittent wakefulness.
Sleep logs, in which drivers will document when they are going to sleep, when they wake up, and whether they are using the sleeper berth. For split-sleep days, drivers will record how and why they chose to split their sleep.
Other information that may be needed, such as vehicle miles traveled (VMT), will also be collected through the participating carrier.
Submitting comments
Comments must be received by November 27, 2017. OMB must receive your comments by this date in order to act quickly on the ICR.
When submitting your written comments:
Reference Federal Docket Management System (FDMS) Docket Number FMCSA-2016-0394; and
Send them to the Office of Information and Regulatory Affairs, Office of Management and Budget, to the attention of the Desk Officer, Department of Transportation/Federal Motor Carrier Safety Administration, via:

Email: oira_submission@omb.eop.gov,
Fax:(202) 395-6974, or
Mail: Office of Information and Regulatory Affairs, Office of Management and Budget, Docket Library, Room 10102, 725 17th Street NW., Washington, DC 20503.
---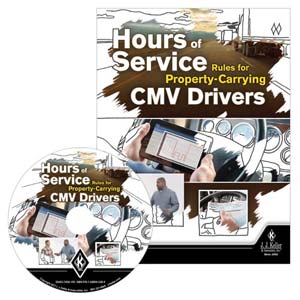 J. J. Keller's Hours of Service Rules for Property-Carrying CMV Drivers - DVD Training includes all current Hours of Service rules drivers must comply with.
---
J. J. Keller's FREE Transportation SafetyClicks™ email newsletter brings quick-read safety and compliance news right to your email box.