Number of traffic fatalities increases for 2016
Posted October 11, 2017
Over 37,000 lives were lost on U. S. highways in 2016, according to data gathered by the National Highway Traffic Safety Administration (NHTSA) from all 50 states and the District of Columbia. The number of traffic deaths is 5.6 percent higher than the fatalities reported for calendar year 2015.
NHTSA also discovered an increase in the fatality rate based on vehicle miles traveled (VMT) on U.S. roads. VMT increased by 2.2 percent in 2016, resulting in a fatality rate of 1.18 deaths per 100 VMT. This is up 2.6 percent from 2015.
Fatalities as the result of distracted driving and drowsy driving declined for 2016, while deaths related to other reckless behaviors (see table) continued to increase. Motorcyclist and pedestrian deaths accounted for more than a third of the year-to-year increase.
Traffic fatality trends for 2016
Situation
Number of fatalities
% change from 2015
Distracted driving
3,450
-2.2%
Drowsy driving
803
-3.5%
Drunk driving
10,497
+1.7
Speeding
10,111
+4.0%
Unbelted
10,428
+4.6
Motorcyclist
5,286
+5.1%
Pedestrian
5,987
+9.0%
Bicyclist
840
+1.3%
View additional NHTSA statistics on 2016 traffic fatalities.
---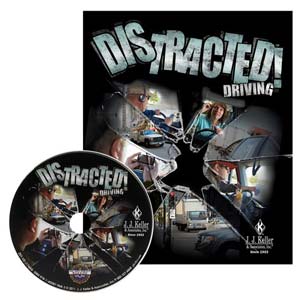 J. J. Keller's Distracted! Driving - DVD Training is designed to change distracted driving habits and help professional drivers deal with the dangerous habits of others.
---
J. J. Keller's FREE Transportation SafetyClicks™ email newsletter brings quick-read safety and compliance news right to your email box.