Hiring in fourth quarter will increase for most companies, survey shows
Posted October 10, 2017
There will be an uptick in both jobs and pay for companies hiring permanent employees or seasonal staff during the final months of the year, according to CareerBuilder's Q4 2017 Job Forecast.
Full-time, permanent hiring
In Q3 2017, 44 percent of employers added full-time, permanent headcount while 8 percent decreased headcount, both improvements over the previous year. Positive trends are expected to continue with 43 percent of employers planning to hire new employees in the fourth quarter, up from 34 percent last year. Seven percent expect to reduce staff, down from 9 percent last year, while 47 percent anticipate no change and 3 percent are unsure.
Seasonal hiring and pay for retail
Retailers are expecting another busy shopping season and are becoming more competitive in terms of what they are willing to pay seasonal workers. Half of retailers plan to hire seasonal workers in Q4 and, of these employers, two-thirds (66 percent) will pay them $10 or more per hour, a big jump from 53 percent in 2016 and 43 percent in 2015.
Overall seasonal hiring and pay
Looking across industries, 35 percent of employers are planning to have extra hands on deck to help with increased demands over the holidays, wrap up the year, or ramp up for 2018. Of those hiring, 70 percent expect to hire some seasonal workers for full-time, permanent roles, up from 62 percent last year and up from 42 percent three years ago.
Employers across industries are also prepared to pay a higher premium for seasonal talent. Of those hiring seasonal workers, 45 percent will pay $15 or more per hour.
This survey was conducted online within the U.S. by Harris Poll on behalf of CareerBuilder.
---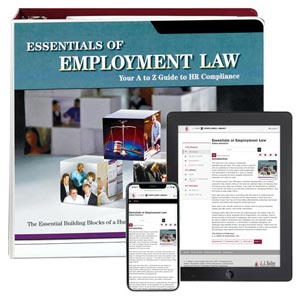 J. J. Keller's Essentials of Employment Law Manual covers more than 100 vital HR topics, including FMLA, ADA, HIPAA, FLSA, COBRA and more.
---
J. J. Keller's FREE HRClicks™ email newsletter brings quick-read human resources-related news right to your email inbox.