Farms required to report excess animal waste emissions by November 15
Posted October 27, 2017
EPA released interim guidance to assist farms in complying with new requirements to report air releases of hazardous substances from animal waste. Under a court order, farms must report air releases from animal waste over the reporting thresholds beginning on November 15, 2017. In addition, farms with continuous releases must submit initial continuous release notification by that date.
EPA must now include farms in the release reporting requirements of the Comprehensive Environmental Response, Compensation, and Liability Act (CERCLA) and the Emergency Planning and Community Right-to-Know Act (EPCRA). Both laws require facilities to report releases of hazardous substances that are equal to or greater than their reportable quantities (RQ) within any 24-hour period.
2008 exemptions for farms overturned
A 2008 EPA final rule exempted most farms from certain release reporting requirements in CERCLA and EPCRA. Specifically, EPA exempted releases from animal wastes above the air threshold levels under CERCLA. For EPCRA reporting, the rule exempted animal waste releases if the farm had fewer animals than a large concentrated animal feeding operation (CAFO). This meant that all farms did not have to report hazardous substances air releases from animal waste under CERCLA, and only large CAFOs had to report under EPCRA.
However, several environmental groups challenged the exemptions in the U.S. Court of Appeals for the District of Columbia Circuit. The Court struck down the rule on April 11, 2017, effectively eliminating the exemptions.
Reporting requirements in effect on November 15, 2017
EPA says that unless the DC Circuit Court takes further action, the ruling takes effect on November 15, 2017. After that date, farm owners and operators must comply with CERCLA section 103 reporting requirements and notify the National Response Center (NRC) at 800-424-8802 when their facilities have air releases of hazardous substances from animal wastes that meet or exceed the RQs.
Typical hazardous substances associates with animal wastes include ammonia and hydrogen sulfide. Both substances have an RQ of 100 pounds. If a farm releases ammonia and/or hydrogen sulfide in amounts of 100 pounds or more within a 24-hour period, the farm owner/operator must notify the NRC.
Challenges for farmers
As part of its interim guidance, EPA has developed resources to assist farmers in estimating their emissions. Estimating releases from animal wastes is challenging for farmers because there is no generally accepted methodology for estimating emission quantities. CERCLA allows "continuous releases" to be reported in ranges, and EPA says it understands farmers may need to report their releases in broad ranges that reflect the high degree of uncertainty and variability of these releases.
EPA also developed a reference guide that provides options for improving air quality from livestock and poultry operations. The guide provides a compilation of conservation measures for reducing air pollutant emissions and/or reducing air quality impacts from these operations.
Comments, resources
EPA will accept input and suggestions from the regulated community and the public on its interim resources and on additional resources that could be included. Comments should be emailed by November 24, 2017, to cercla103.guidance@epa.gov. The Agency will revise the guidance, as appropriate, to reflect additional information to assist farm owners and operators in meeting their reporting obligations.
Find the interim guidance on the EPA website.
---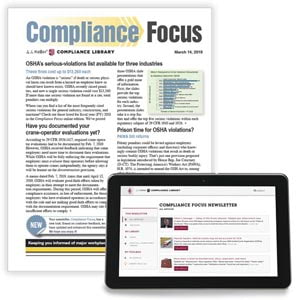 J. J. Keller's Compliance Focus helps you stay on top of critical regulatory developments from: DOT, OSHA, EPA, DOL, MSHA, EEOC, DHS and other agencies.
---
J. J. Keller's FREE Workplace SafetyClicks™ email newsletter brings quick-read workplace safety and compliance news right to your email box.