CDC reports on last year's flu vaccination coverage
Posted October 4, 2017
The Centers for Disease Control and Prevention (CDC) released its findings on flu vaccination coverage in the United States for the 2016-17 influenza season. Last year's coverage for all groups except children 6–23 months did not reach the CDC's 2020 targets of 70 percent vaccination coverage for children and adults.
The CDC's Data from the National Immunization Survey-Flu (NIS-Flu) and the Behavioral Risk Factor Surveillance System shows that patient-reported flu vaccination coverage for children aged 6 months through 17 years did not change when compared with the 2015-16 season. However, self-reported flu vaccination coverage among adults did increase by 1.6 percentage points.
The CDC reports large variability in state-by-state flu vaccination coverage for children and adults.
Influenza, or the flu, is a contagious respiratory illness that can cause mild to severe illnesses and can lead to hospitalization or even death. People over 65 years of age, children younger than 5 years, and those with certain health conditions or pregnant women may be more susceptible to developing severe illness from the flu.
The CDC's Advisory Committee on Immunization Practices says annual vaccinations are the primary way to prevent sickness and death caused by the flu and recommends flu vaccinations for all people aged 6 months or older who do not have medical reasons for not vaccinating.
The CDC's figures show the percentage of vaccination coverage by age group for the 2016-17 flu season:
46.8 percent for all age groups;
59 percent for children aged 6 months to 17 years;
43.3 percent for adults.
These numbers are broken out further by age group, gender, race/ethnicity, and time of year.
The CDC says its findings can be used by heath care providers to identify people who may be at risk of not receiving a flu vaccination. According to the Centers, people should receive their flu vaccinations before the influenza virus begins to circulate in the community. Health care providers are urged to offer flu vaccinations by the end of October and continue to offer vaccinations as long as flu viruses are circulating.
Recommendations for the 2017-18 influenza season
In August, the CDC published its recommendations for the 2017-18 influenza season. Along with updated information on expected flu vaccine products available for the upcoming flu season, the CDC advises against using the live attenuated flu mist vaccine.
---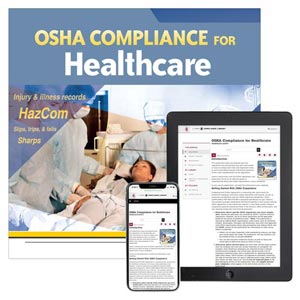 J. J. Keller's OSHA Compliance for Healthcare Manual serves as an effective reference for implementing safety and health requirements in your workplace.
---
J. J. Keller's FREE Workplace SafetyClicks™ email newsletter brings quick-read workplace safety and compliance news right to your email box.