Will a new President bring paid family leave?
Posted October 14, 2016
The United States Presidential election is fast approaching and both major party candidates indicate that they support paid family leave. While both would like to see changes to federal leave provisions, their plans have differences. For example, Democratic Party nominee Hillary Clinton would like to see 12 weeks of paid family leave, while Donald Trump, the Republican Party nominee, would like to see six weeks of paid maternity leave.
Here is a breakdown of their plans.
Clinton's plan:
Guarantee up to 12 weeks of paid family and medical leave to care for a new child or a seriously ill family member, and up to 12 weeks of medical leave to recover from a serious illness or injury of their own.
Employees would get at least two-thirds of their current wages, up to a ceiling, while on leave.
The plan would impose no additional costs on businesses, including small businesses.
The plan would fund paid leave with tax reforms.
Trump's plan:
Guarantee up to six weeks of paid maternity leave.
Amends the existing unemployment insurance (UI) that companies are required to carry.
The UI benefit would only equal what would be paid to a laid-off employee.
Apply only when employers don't offer paid maternity leave.
Paid for by offsetting reductions in the program so that taxes are not raised.
Will triple the average paid leave received by new mothers.
Libertarian candidate Gary Johnson has not indicated that he supports mandatory paid leave, while Green Party candidate Jill Stein would support paid sick leave and family leave.
The cost of such a provision could make it a challenge to put into play, and while candidates may talk about it before the election, it might be a different ballgame to actually pass such a law.
It appears that, at least until 2017, you won't have to worry about a federal mandate to provide paid employee leave. The tide of state paid leave provisions, however, continues. To date, California, New Jersey, Rhode Island, and New York provide for paid family leave, while Connecticut, California, Massachusetts, Oregon, and Vermont provide for paid sick leave.
This article was written by Darlene Clabault of J. J. Keller & Associates, Inc.
---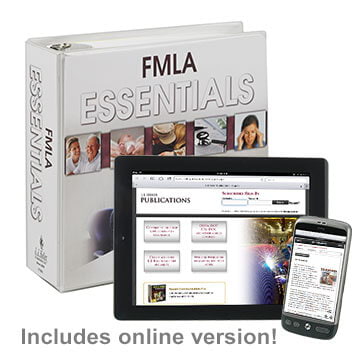 J. J. Keller's FMLA Essentials manual helps HR pros understand and comply with the requirements, control costs related to leave taken and minimize the law's potential disruption to their organizations' operations.
---
J. J. Keller's FREE HRClicks™ email newsletter brings quick-read human resources-related news right to your email inbox.