Survey reveals substantial difference between men and women for paid parental leave
Posted October 10, 2016
On average women receive almost twice as much paid parental leave after the birth of a child as men, according to new research.
The Paid Leave in the Workplace Survey provided by the Society for Human Resources Management (SHRM) found that women, on average, were given 41 days of paid maternity leave compared with 22 days of paid paternity leave for men. (This is in addition to other forms of paid leave that might be available to new parents.)
The survey also found that the average amount of paid adoption leave was 31 days, and 36 days was the average paid surrogacy leave. Perhaps not surprisingly, noted Evren Esen, director of workforce analytics at SHRM, the survey showed that very few employees left any parental leave unused.
Paid leave plans
The survey also examined paid leave plans, finding that the majority of employers used employee tenure as the basis for leave offered in paid time off (PTO, a combination of vacation, sick, and personal leave) plans and vacation plans. An employee with two years of tenure received an average of 15 days in a PTO plan and 11 days each in paid vacation and paid sick plans. Overall, paid vacation ranged from eight days to 22 days, based on employees' length of service.
For plans that were not based on tenure, full-time employees, on average, were awarded about 18 days of PTO or 16 vacation days, 11 sick days, and four personal days per year.
Full-time employees generally had to wait six weeks to nine weeks before they were eligible to take leave from PTO, paid sick, and paid personal plans. Wait times were the longest — slightly more than three months — for employees with paid vacation plans. The survey also examined the following types of paid leave:
Bereavement. On average, four days of bereavement leave were given for the death of a spouse or child.
Sabbaticals. Generally, 132 paid days were awarded for a paid sabbatical program, and 116 days were given for an unpaid sabbatical program.
Time off to vote. Thirty-seven percent of respondents provided paid leave beyond what is required by law.
The survey polled 2,665 randomly selected SHRM members from November 2015 to January 2016. It has a margin of error of plus or minus 2 percentage points.
---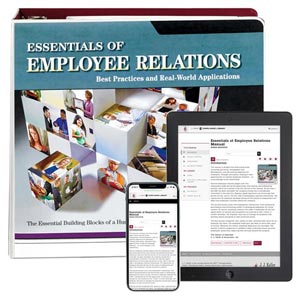 J. J. Keller's Essentials of Employee Relations Manual provides critical HR best practice tips and real-world applications in one convenient resource.
---
J. J. Keller's FREE HRClicks™ email newsletter brings quick-read human resources-related news right to your email inbox.