OSHA releases guidance materials on anti-retaliation provisions
Posted October 25, 2016
A new OSHA webpage and an October 19, 2016, memorandum provide guidance on the anti-retaliation provisions in the May 12, 2016, Improve Tracking of Injuries and Illnesses final rule. The amendments to 29 CFR 1904.35 address an employee's right to report injuries and illnesses free from retaliation. Although the provisions became effective on August 10, 2016, enforcement of the rule has been delayed until December 1, 2016.
The three anti-retaliation provisions are as follows:
An employer's procedure for reporting work-related injuries and illnesses must be reasonable and must not deter or discourage employees from reporting.
Employers must inform employees of their right to report work-related injuries and illnesses free from retaliation.
An employer may not retaliate against employees from reporting work-related injuries or illnesses.
Both the memorandum and the webpage state that the rule does not ban appropriate disciplinary, incentive, or drug-testing programs. The memorandum explains the anti-retaliation provisions in detail, providing an in-depth discussion on Sections 1904.35(b)(1)(i) and (b)(1)(iv).
The webpage provides interpretations on various scenarios. In one scenario, "Employee X twists his ankle at work but does not immediately realize that he is injured because his ankle is not sore or swollen, and therefore he does not report the injury to Employer. The next morning, Employee X's ankle is sore and swollen, and he realizes he has the kind of injury he is required to report to Employer. He reports the injury to the employer that day. Employer disciplines Employee X for failing to report his injury 'immediately' as required by Employer X's injury reporting rules."
In this situation, OSHA says that the employer's "rigid" prompt reporting requirement would violate the anti-retaliation provisions because it fails to account for injuries that build over time. Also, disciplining the employee for reporting the injury is prohibited. In addition, OSHA says that although the employee technically violated a work rule to report the injury immediately, the employer's rule was "not reasonable."
This article was written by Lisa Neuberger of J. J. Keller & Associates, Inc.
---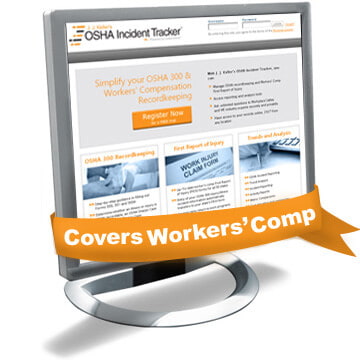 J. J. Keller's OSHA Incident Tracker™ Tool is an up-to-date online service that helps you simplify your OSHA Form 300 and worker's compensation recordkeeping.
---
J. J. Keller's FREE Workplace SafetyClicks™ email newsletter brings quick-read workplace safety and compliance news right to your email box.