OSHA delays anti-retaliation portion of injury tracking rule until December 1
Posted October 21, 2016
OSHA has again delayed the enforcement of the anti-retaliation provisions in its injury and illness tracking rule. The provisions became effective on August 10, 2016, but OSHA initially delayed their enforcement until November 1, saying it needed more time to publish education and guidance materials for employers.
The new enforcement date is December 1, 2016.
The U.S. District Court for the Northern District of Texas asked OSHA to push back the enforcement date to give the court more time to consider a motion pending before it challenging the new provisions.
The three anti-retaliation provisions in the final rule to Improve Tracking of Workplace Injuries address employer conduct that could discourage employees from reporting work-related injuries or illnesses. The provisions:
Clarify the existing implicit requirement that an employer's procedure for reporting work-related injuries and illnesses be reasonable and not deter or discourage reasonable employees from reporting work-related injuries or illnesses;
Require employers to inform employees of their right to report work-related injuries and illnesses free from retaliation; and
Incorporate into the regulations at Part 1904 the existing statutory prohibition on retaliating against employees from reporting work-related injuries or illnesses.
Employers are concerned about three specific types of policies OSHA addressed in the preamble discussion to the final rule:
Disciplinary policies;
Post-accident drug testing policies; and
Employee incentive programs.
Of these, the most questions center around post-accident drug testing policies. OSHA stated that it does not prohibit post-accident drug testing of employees, but believes that blanket post-accident drug testing discourages employees from reporting injuries and illnesses.
According to OSHA, employers should limit post-incident drug testing to situations where employee drug use is likely to have contributed to the incident, and for which a drug test can accurately identify current impairment, and not just previous use. For example, it would not be reasonable to drug-test an employee who reports a bee sting or a repetitive strain injury.
Also, any drug testing policy must be designed so that it is not perceived as a punishment for reporting an injury and must not embarrass the employee.
Finally, drug testing that is required by another federal law or state workers' compensation program is allowed. OSHA says that in these cases, post-incident drug testing would not be retaliatory.
This article was written by Lisa Neuberger of J. J. Keller & Associates, Inc.
---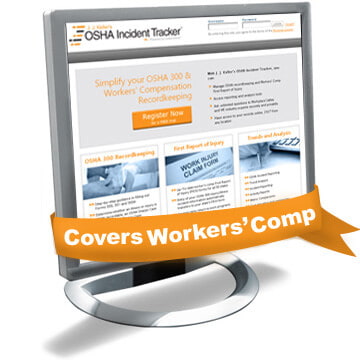 J. J. Keller's OSHA Incident Tracker™ Tool is an up-to-date online service that helps you simplify your OSHA Form 300 and worker's compensation recordkeeping.
---
J. J. Keller's FREE Workplace SafetyClicks™ email newsletter brings quick-read workplace safety and compliance news right to your email box.