Most employees go to work while sick, survey shows
Posted October 26, 2016
Being under the weather isn't keeping workers out of the office, and employees are not pleased with coworkers coming in sick, new research shows.
While 82 percent of human resources (HR) managers interviewed said their company encourages staff to stay home when they're sick, 85 percent of employees have gone to the office anyway, according to the OfficeTeam survey. Thirty-six percent of those who showed up to work while ill did so because they felt well enough to do their jobs; another 32 percent didn't want to fall behind on assignments.
Forty-two percent of employees surveyed said their biggest pet peeve during cold and flu season is when someone comes in sick. Another 42 percent are most annoyed when those around them don't cover their mouth when sneezing or coughing.
More than 300 HR managers were asked, "Does your company encourage or discourage workers to stay home when they are sick?" Their responses:
Encourages strongly — 53 percent
Encourages somewhat — 29 percent
Neither encourages nor discourages — 17 percent
Discourages somewhat — 1 percent
Discourages strongly — 0 percent
In a separate survey, more than 500 office workers were asked, "Have you ever gone to work when sick?" Their responses:
Yes — 85 percent
No — 15 percent
Workers who have gone to work when sick were also asked, "What is the primary reason you went to work when sick?" Their responses:
You felt well enough to work — 36 percent
Too much work — you didn't want to fall behind — 32 percent
You don't get any sick days — 12 percent
You want to save sick time in case you need it later — 9 percent
Your manager would frown upon you not coming in — 4 percent
Other — 7 percent
OfficeTeam offers three tips for being a considerate coworker during cold and flu season:
Check your options. If you're feeling well enough to complete projects but are still contagious, find out if you can work from home. If telecommuting is not an option or you're feeling too ill to tackle assignments, work with your manager to identify team members or hire temporary professionals to help during your absence.
Be a good neighbor. If you absolutely must be at work due to a major deadline or meeting, avoid getting too close to others, wash your hands frequently and cover your mouth when sneezing or coughing. Try to leave the office after the critical task is completed.
Lend a hand. Offer to fill in for coworkers when they're out sick. It's likely they'll return the favor the next time you need help.
About the research
The surveys of HR managers and workers were developed by OfficeTeam. They were conducted by independent research firms and include responses from more than 300 HR managers at U.S. companies with 20 or more employees, and more than 500 U.S. workers 18 years of age or older and employed in office environments.
---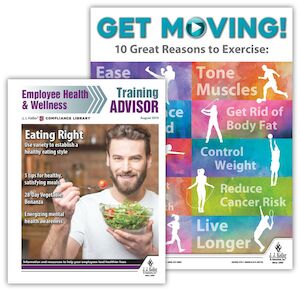 J. J. Keller's LivingRight®: Health & Wellness Awareness Program offers an easy way to help control healthcare costs and promote employee wellness.
---
J. J. Keller's FREE HRClicks™ email newsletter brings quick-read human resources-related news right to your email inbox.