House passes bill to delay DOL overtime rule
Posted October 5, 2016
On September 28, the U.S. House of Representatives passed the Regulatory Relief for Small Businesses, Schools, and Nonprofits Act (H.R. 6094) which would delay the Department of Labor's new overtime rule by six months. The bill passed the House by a vote of 246 to 177 and has moved to the Senate for consideration.
Representatives supporting the bill argue that more time is needed to prepare for the changes resulting from the rule. The rule more than doubles the salary threshold under which employees qualify for overtime pay. The new required salary level will be $913 per week or $47,476 per year while the current level is $455 per week ($23,660 per year).
Before the bill is passed, it would first need Senate approval. Furthermore, a statement from the White House Office of Management and Budget (OMB) reports that the administration strongly opposes H.R. 6094 and that the President would veto it.
In addition to the bill that would delay the rule, there are reports of members of Congress determined to overturn the rule altogether. However, the likelihood of such efforts succeeding before the rule takes effect is low because the House and Senate are unlikely to override a veto.
Therefore, employers are encouraged to proceed with complying with the new overtime requirements which take effect on December 1, 2016.
---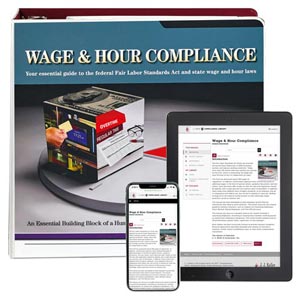 J. J. Keller's Wage and Hour Compliance with FLSA Manual provides critical info to help you comply with the Fair Labor Standards Act (FLSA) and state wage and hour laws.
---
J. J. Keller's FREE HRClicks™ email newsletter brings quick-read human resources-related news right to your email inbox.