FMCSA orders Georgia trucking company to cease operations
Posted October 11, 2016
The Federal Motor Carrier Safety Administration (FMCSA) has ordered a Georgia-based trucking company to immediately cease all intrastate and interstate operations after a federal investigation found the company to pose an imminent hazard to public safety. The carrier was served the federal order on October 4, 2016.
The company operates five commercial trucks and principally transports automotive parts across the country, including passenger vehicle air bags and related air bag components — some of which are federally designated hazardous materials (HM) Class 1.1, 1.3, and 9 products that are volatile and potentially highly explosive.
On August 22, 2016, one of the company's trucks traveling in Texas, transporting air bag components approached a curve at an unsafe speed, traveled off the roadway, striking a culvert, and rolled over. The truck caught fire and the air bag components being transported in the vehicle exploded, leveling a nearby house and garage and damaging multiple houses in the area. The occupant of the leveled house was killed. The company drivers and a couple in a nearby car were injured.
A post-crash investigation conducted by FMCSA safety investigators found the company to be in violation of multiple federal safety statutes and regulations.
The agency found the company failed to:
Comply with any driver qualification requirements, including ensuring that its drivers were properly licensed and physically qualified to operate a commercial motor vehicle (CMV). Within the last two and a half months, the company allowed two drivers to operate its vehicles without possessing a valid commercial driver's license (CDL).
Sufficiently implement a random alcohol and drug testing program for its drivers. In one instance, FMCSA investigators found that the company had allowed a driver who had refused to submit to a random controlled substances test to continue to operate a commercial truck hauling explosive HM.
Ensure that its vehicles were regularly inspected, maintained, repaired, and met minimum safety standards. During the last ten vehicle roadside inspections, all of the company's commercial vehicles were placed out-of-service or cited for safety violations. During FMCSA's investigation, major safety defects discovered included out-of-adjustment and contaminated brakes, oil leaks, loose steering system components, inadequately working slack adjusters, and an unsecured fire extinguisher.
Properly monitor its drivers to ensure compliance with maximum hours-of-service requirements prohibiting fatigued operation of commercial motor vehicles.
Provide any of its HM employees with function-specific HM training or in-depth security training.
Comply with other related federal safety regulations involving required HM shipping paper information. The company also failed to notify the National Response Center within 12 hours of the crash.
Have HM security or communication plans in place, therefore not satisfying the conditions for receiving a HM safety permit.
FMCSA is also considering civil penalties for the safety violations discovered during the investigation and may refer this matter for criminal prosecution.
---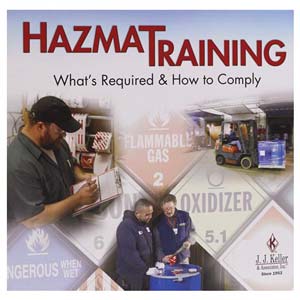 J. J. Keller's Hazmat Training: What's Required & How To Comply provides employees with critical information on all 4 areas of required Hazardous Materials Regulations (HMR) training.
---
J. J. Keller's FREE Transportation SafetyClicks™ email newsletter brings quick-read safety and compliance news right to your email box.