EEOC to begin collecting summary pay data March 2018
Posted October 4, 2016
The U.S. Equal Employment Opportunity Commission (EEOC) announced that starting March 2018, it will collect summary employee pay data from certain employers. The agency says the new data will be used in investigations of possible pay discrimination, which remains a contributing factor to persistent wage gaps.
The summary pay data will be added to the annual Employer Information Report or EEO-1 report that is coordinated by the EEOC and the Department of Labor's Office of Federal Contract Compliance Programs (OFCCP). OFCCP collects data from federal contractors and subcontractors.
In response to public comments, the first deadline for the new 2017 EEO-1 report will be March 31, 2018, which provides employers 18 months to prepare. This revision does not impact the 2016 EEO-1 report, which was due on September 30, 2016 and is unchanged.
Private employers including federal contractors and subcontractors with 100 or more employees will report summary pay data. Under no circumstances should employers report individual pay or salaries or any personally identifiable information.
Federal contractors and subcontractors with 50-99 employees will not report summary pay data, but they will continue to report employees by job category as well as by sex, ethnicity, and race as they do now. Employers with 99 or fewer employees and Federal contractors and subcontractors with 49 or fewer employees will not be required to complete the EEO-1 report as is current practice.
The EEOC does not disclose EEO-1 data for a specific employer; it only publishes large-scale aggregated EEO-1 data in a way that fully protects employer confidentiality and employee privacy. OFCCP holds EEO-1 data for federal contractors and subcontractors confidential to the maximum extent possible under the Freedom of Information Act and the Trade Secrets Act.
---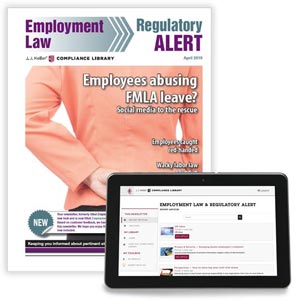 J. J. Keller's Employment Law Today newsletter explains why you need to care, what you need to do and how your business could be affected by HR industry news.
---
J. J. Keller's FREE HRClicks™ email newsletter brings quick-read human resources-related news right to your email inbox.