Calculating FMLA for a schedule change
Posted October 7, 2016
Despite Cassie's attempt to take care of all her family members (children and parents) and work the 40 hours per week of her job, she finally realized she couldn't do it all, at least not to the level she felt she needed. In light of this, she wanted to work only 30 hours per week. That way, she could take care of her Mom, who was suffering from heart disease, and still continue to work. When Cassie told Elise, the company's Human Resources Director, that she wanted to reduce her hours, Elise said that she understood and would look into it. Elise didn't think it would be a problem, but Cassie had been taking time off under the Family and Medical Leave Act (FMLA) on an intermittent basis to care for her mom. Elise wondered how to track the FMLA leave going forward.
The vagaries of intermittent FMLA leave
When an employee takes FMLA leave in full workweek increments, administration of it is just easier — you need only count the weeks. When an employee takes FMLA leave on an intermittent or reduced schedule basis, however, the calculations get a bit more challenging. An added level of complexity is added if your employees' schedules are less than standard, or, as in Cassie's case, they change.
When an employee takes leave in less than full-week increments, you count only the leave taken when an employee was otherwise scheduled and expected to work. For example, if Cassie were to work only Monday through Wednesday, 10 hours each day, and she took off four hours on the Wednesday to care for her mother, and also spent part of Thursday caring for her mother, you would count only Wednesday's four hours as FMLA leave. The same is true if a holiday occurs. If Cassie normally works Wednesday through Friday, but during Thanksgiving week she takes four hours of leave of Wednesday afternoon, and the company is closed on Thanksgiving, you would not count Thursday as FMLA leave, since Cassie was not expected to work that day. You would only count Wednesday's absence as FMLA leave.
If Cassie had been scheduled and expected to work on Thursday, but didn't because she took care of her Mom, you could count that absence as FMLA leave.
If you have made a permanent or long-term change to an employee's schedule, such as with Cassie, once the change is made, you would use the hours worked under the new schedule to calculate how much leave she has.
For example, let's say that, before the schedule change, Cassie had 80 hours of FMLA leave available. After the schedule change, she would still have 80 hours available, but if she took 10 hours of leave, it would be ⅓ of a week of FMLA leave. Before the schedule change, it would have counted as ¼ of a week of FMLA leave.
Sometimes, employees initiate a change in their working schedules, and sometimes, employers initiate such changes. In preparation for December 1, 2016, many employers might be changing employee schedules in light of the Fair Labor Standards Act amendments revising overtime pay. As such, you might need to be considering how such a change will affect employees' FMLA leave entitlement.
This article was written by Darlene Clabault of J. J. Keller & Associates, Inc.
---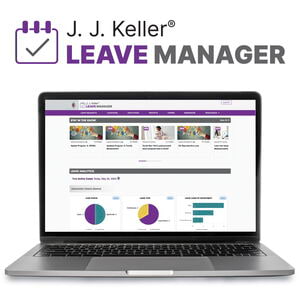 J. J. Keller® FMLA Manager™ Service makes leave tracking easier while complying with the latest federal & state regulations.
---
J. J. Keller's FREE HRClicks™ email newsletter brings quick-read human resources-related news right to your email inbox.