Agencies publish antitrust guidance for HR professionals
Posted October 25, 2016
The Federal Trade Commission (FTC) and the Justice Department's (DOJ) Antitrust Division issued guidance for human resource (HR) professionals and others who are involved in hiring and compensation decisions. HR professionals are often in the best position to ensure their companies' hiring practices comply with the law and this guidance is intended to educate and inform them about how the antitrust laws apply to the employment arena.
The agencies say employees can be harmed if companies that would ordinarily compete against each other to recruit and retain employees agree to fix wages or other terms of employment or enter into so-called "no-poaching" agreements by agreeing not to recruit each other's employees. Workers are entitled to the benefits of a competitive market for their services.
Going forward, the agencies intend to criminally investigate naked no-poaching or wage-fixing agreements that are unrelated or unnecessary to a larger legitimate collaboration between the employers. These types of agreements eliminate competition in the same irredeemable way as agreements to fix the prices of goods or allocate customers, which have traditionally been criminally investigated and prosecuted as hardcore cartel conduct. Agreements that do not constitute criminal violations may still lead to civil liability under statutes enforced by both agencies.
The guidance also discusses how the antitrust laws apply to firms' decisions to share sensitive information, such as compensation information, with competing employers, either directly or through third party entities. Information sharing may violate antitrust law unless the information exchange is carefully designed to prevent harm to competition.
The agencies' joint guidance includes a Q&A section that explains how antitrust law applies to various scenarios that HR professionals might encounter in their daily work.
The agencies have also issued a quick reference card that encapsulates some of this information in a convenient, index-card-sized format. The card provides a list of antitrust red flags. The listed situations are not exhaustive, and the existence of a red flag does not necessarily imply an antitrust violation. Still, HR professionals should proceed with particular caution if they are confronted with any of the scenarios listed on the card.
---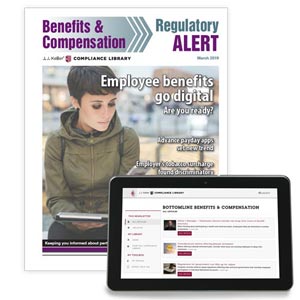 J. J. Keller's BottomLine Benefits & Compensation is an 8-page, monthly newsletter that addresses key issues relating to benefits and compensation programs.
---
J. J. Keller's FREE HRClicks™ email newsletter brings quick-read human resources-related news right to your email inbox.